Rocco DiSpirito's Fajitas With Avocado Salsa
Skip the Skirt Steak and Go With Chicken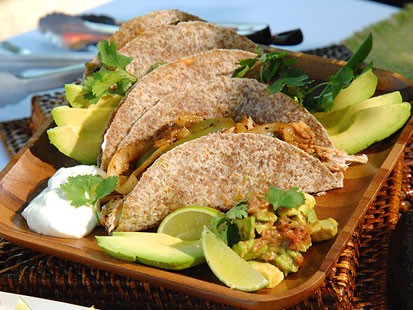 From the kitchen of Rocco DiSpirito
|
Purists insist that skirt steak is the only cut of beef from which to make fajitas. Skirt steak is delicious -- mostly because of the fat marbling through it. That's why this recipe calls for boneless skinless chicken breast: It has significantly less fat than skirt steak. The condiments more than make up for the flavor that fat provides.
Ingredients
Two 6-ounce boneless, skinless chicken breasts
Half of a 1-ounce package of fajita seasoning, such as Old El Paso
Nonfat cooking spray
1 large Vidalia onion, sliced thin
1 large green bell pepper, seeded and sliced thin
1/2 ripe Hass avocado, peeled
1 cup store-bought fresh salsa
1/2 cup chopped fresh cilantro
Eight 6-inch, low-carb, high-fiber tortillas, such as La Tortilla Factory
1/2 cup nonfat Greek yogurt
Cooking Directions
Heat a grill pan over high heat.
Season the chicken with half of the fajita seasoning, and spray them lightly with cooking spray.
When the grill pan is hot, add the chicken breasts and grill them for about 3 minutes per side. Transfer the chicken to a platter, cover with foil, and set aside to rest. (Leave the grill pan on the heat).
Combine the onion and pepper in a large bowl, and spray them lightly with cooking spray. Season the vegetables with the remaining fajita seasoning, and place them on the grill pan. Grill the vegetables until they are charred and crisp-tender, about 7 minutes. Transfer the vegetables to a bowl, and cover it with foil to keep them warm.
While the vegetables are grilling, mash the avocado lightly with a fork in a medium bowl. Stir in 1/4 cup of the salsa and half of the cilantro to make the guacamole.
Holding them with flameproof tongs, char the tortillas on each side over an open flame. (Or toast them under the broiler.) Place the tortillas on a plate, and cover them with a towel to keep them warm.
Cut the chicken into thin pieces.
To assemble the fajitas, spoon some of the guacamole onto each tortilla. Pile the chicken and the pepper-onion mixture on top of the guacamole. Top with the yogurt, remaining 3/4 cup salsa, and remaining 1/4 cup cilantro. Serve.
*Recipe courtesy of Rocco DiSpirito; "Rocco Gets Real"; Ballantine Books, 2010.
Other Recipes That You Might Like