Raw Salad
From 'Chef's Table'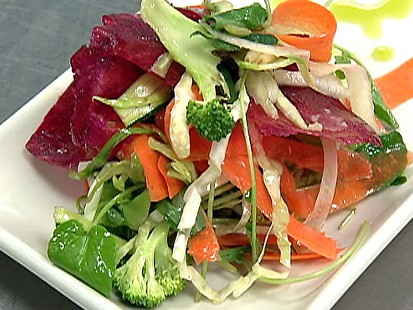 SimonLA executive chef Kerry Simon tosses the best of summer vegetables.
From the kitchen of Kerry Simon
|
Ingredients
For the Raw Salad:
4 baby red carrots, peeled
4 baby yellow carrots, peeled
½ small (baseball size) jicama, peeled
2 stalks of celery with leaves, halved
½ small (baseball size) celery root, peeled
6 small radish of varying colors
½ cup broccoli florets
2 brussel sprouts
4 spears of asparagus, halved
2 sprigs of tarragon picked
Juice and zest of two lemons
3 ounces organic extra virgin olive oil
Salt and pepper to taste
Cooking Directions
Set aside lemons, tarragon, brussel sprouts, celery leaves and broccoli florets.
Slice all other vegetables as thin as possible on the mandolin. Place in a large mixing bowl.
Finely julienne brussel sprouts and add to bowl.
Add picked tarragon, broccoli florets, celery leaves and the zest and juice of the lemons.
Add extra virgin olive oil and finish with salt and pepper to taste.
Mix all ingredients well and serve on chilled plates.
Other Recipes That You Might Like