Summer Beans Stew
From 'Chef's Table'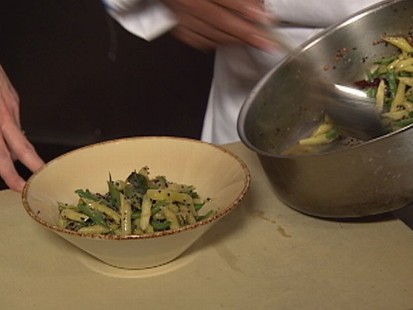 Tabla exec chef Floyd Cardoz takes green beans to spicy heights.
From the kitchen of Floyd Cardoz
|
Ingredients
For the Bean Stew:
3 tablespoons canola oil
1 ½ teaspoons urad dal (split black lentils), skinned
2 tablespoons brown mustard seeds
1 small dried red chile, broken and seeds discarded
10 to 12 fresh curry leaves
½ cup thinly sliced shallot
1 tablespoon julienne strips peeled ginger
½ pound green beans, cut crosswise into ½– inch pieces
½ pound wax beans, cut crosswise into ½-inch pieces
2 cups Chicken Stock, reduced-sodium canned chicken broth, or water
Kosher salt
Cooking Directions
Heat the oil in a 3- to 4- quart sauté pan over moderately low heat until it shimmers. Cook the urad dal, shaking the pan, until pale golden, about 2 minutes. Working quickly, add the mustard seeds, chile, curry leaves, shallot, and ginger. Remove the pan from the heat and stir everything together.
Return the pan to the stove, increasing the heat to moderate, and cook, stirring, until the shallot is softened, about 2 minutes. Add the green and wax beans and cook, stirring, for 1 minute.
Increase the heat to high and add the stock, then salt to taste. Cook until the beans are tender but not soft, about 9 minutes.
Season with salt and serve immediately.
Other Recipes That You Might Like