Home
>
GMA
>
Recipes Home
>
Jane Green's Chicken (orTurkey) Chili with a Vegetarian Alternative
Jane Green's Chicken (orTurkey) Chili with a Vegetarian Alternative
With or Without Meat, Chili's That's Hearty and Full of Flavor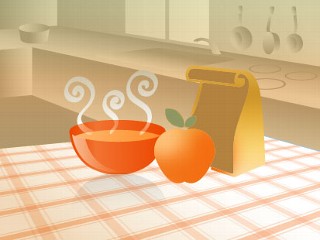 From the kitchen of Jane Green
|
Bestselling author Jane Green's newest novel, "Promises to Keep," tells the story of three women's friendship.
The novel includes several recipes. Here's Green's recipe for chili. It can be made with chicken or turkey, or try it without meat.
Ingredients
1 green pepper
1/2 large white onion
2 cups baby carrots
3 cloves garlic
3 tablespoons olive oil
1 teaspoon chili powder
2 teaspoons ground cumin
1/2 teaspoon Jamaican allspice (or any other kind - I just happened to have that)
1/2 teaspoon cinnamon
1 teaspoon paprika
1/2 teaspoon turmeric
1 pound minced chicken/turkey (for meat eaters)
2 small cans kidney beans
1 small can black beans
1 large can chopped tomatoes
Dash of Worcestershire sauce
1 teaspoon fresh cilantro
Cooking Directions
Chop the pepper, onion, carrots and garlic in a blender, then gently sauté in the oil until soft and flavorful (about 5 minutes). Add the chili, cumin, allspice, cinnamon, paprika, and turmeric and stir well.
For vegetarian chili, omit the meat step and carry on. If adding meat, add it now and keep stirring and turning until meat changes color.
Add the kidney and black beans, making sure you rinse them well in a colander beforehand. Then add the tomatoes and the Worcestershire sauce.
Bring to a boil, then turn down the heat and cover, leaving to simmer for around 30 minutes. The longer you simmer it the better the flavor will be. Also, it's best to make it a couple of days in advance and leave in the fridge for all the flavors to fully absorb.
Serve with sour cream, the cilantro, finely chopped onion guacamole and shredded cheese to garnish, allowing guests to help themselves as desired.
Reprinted by arrangement with Viking, a member of Penguin Group (USA) Inc., from Promises to Keep by Jane Green. Copyright © 2010 by Jane Green
Other Recipes That You Might Like