Rocco's Mixed Green Salad with Fennel-Tarragon Dressing
A Great Green Salad That Tastes Great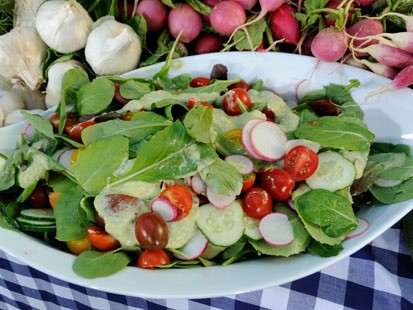 From the kitchen of Rocco DiSpirito
|
A great green salad has always been a staple on my restaurant menus and on my table at home. The combination of Dijon mustard, good-quality vinegar and olive oil gives tender green leaves their raison d'etre. There is no olive oil in this dressing and it still tastes great.
I kept the Dijon mustard in the mix because it's very low in fat -- and because few ingredients can pack a punch like Dijon mustard. Yogurt, lemon juice and aromatics like tarragon and fennel round out the dressing.
You'll never again eat a green dressed with artificial-tasting, gloppy, low- fat dressing.
Ingredients
Dressing:
1 small fennel bulb, cored and roughly chopped 8 garlic cloves
1/4 cup water
Salt and freshly ground black pepper
1/3 cup fresh lemon juice
3 tablespoons Dijon mustard
1/2 cup Greek yogurt
1/4 cup fresh tarragon, whole leaves
Salad:
One 7-ounce package (8 cups) green-leaf lettuce mix, such as Ready Pac Parisian
8 large radishes, sliced thin
1 cup grape tomatoes
1 small red onion, sliced thin
1 small cucumber, cut in half lengthwise and sliced into half-moons
Salt and freshly ground black pepper
Cooking Directions
To prepare the dressing, combine the fennel, garlic and water in a medium microwave-safe bowl and season with salt and pepper to taste. Cover the bowl tightly with plastic wrap and microwave on high until the vegetables are completely tender, about 8 minutes.
In a blender, combine the cooked fennel and garlic, any remaining juices and the lemon juice. Puree the mixture until it is smooth. Let the puree cool slightly, still in the blender. Then add the mustard, yogurt, and tarragon, and puree until smooth. Season the dressing with salt and pepper to taste; chill in the refrigerator until ready to use.
To prepare the salad, in a large bowl, combine the greens, radishes, tomatoes, red onion, and cucumber. Toss the salad with the dressing. Season with salt and pepper to taste, and serve.
NOW YOU CAN EAT THIS!
Before After
Fat 27g 3.1g
Calories 350 119
Protein: 4g
Carbohydrates: 19g
Cholesterol: 8mg
Fiber: 5g
Sodium: 638mg
Food styled by Karen Pickus.
Other Recipes That You Might Like