Shrimp and Tomato Stew
Chef John Fraser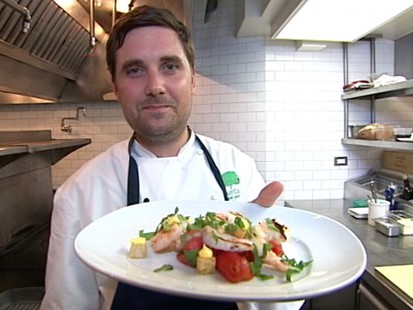 Chef John Fraser combines simple ingredients for a tasty dish.
From the kitchen of John Fraser
|
Ingredients
For the Tomato Stew:
4-5 Ripe Roma Tomatoes
1 Shallot, Sliced Thin
1 Clove of Garlic, Sliced Thin
1 White Anchovy Filet
Lemon Zest
1 Sprig Marjoram
1 T. Capers
Red Wine Vinegar
Saffron
Olive Oil
Salt
For the Crouton:
Country Bread
Olive Oil
For the Rouille:
1-2 Egg Yolks
1 Clove of Garlic, grated
Blended Oil
Saffron
Lemon Juice
Salt
Dandelion Greens
For the Shrimp:
16 Shrimp, cleaned
Cooking Directions
For the Tomato Stew:
Remove core and score bottom of tomatoes. Blanch. Remove skin. Cut in half and squeeze out seeds. Cut each half into eighths.
Place a large saute pan over medium heat. Throw in garlic and shallot. Sweat. Add anchovy filet and capers. Turn heat to high. Stir until anchovy filet breaks up.
Before garlic and shallots begin to color, add tomatoes, marjoram and one strip of lemon zest. Stir and leave alone.
When most of the liquid has evaporated and tomatoes begin to caramelize, finish with red wine vinegar, saffron and olive oil. Season with salt.
For the Crouton:
Remove crust. Cut into 1-inch cubes. Toast in oven. Remove and toss in olive oil.
For the Rouille:
Put saffron and lemon juice in a small pot. Bring to simmer. Remove from heat and let steep.
Place lemon juice/saffron mixture, garlic and egg yolk in a robot coupe. Blend. Slowly add blended oil until it reaches desired thickness. Season.
For the Dandelion Greens:
Wash and julienne.
For the Shrimp:
Wash and devein. Place grill pan on high heat. Season shrimp. Dry grill on one side only.
Recipe Summary
Main Ingredients: tomato, shallot, garlic, anchovy, shrimp, lemon zest, capers, saffron, country bread, eggs, dandelion greens
Other Recipes That You Might Like