Diane Henderiks' Grilled Chicken Kebobs with Pineapple Salsa
Seven Ingredients for One Great Meal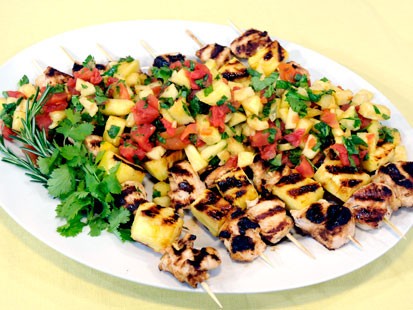 From the kitchen of Diane Henderiks
|
Before you start, hit the grocery store:
3 3/4lb skinless, boneless chicken breast
14 large tomatoes
2 whole ripe pineapples or 3 – 14oz cans of juice-packed pineapple chunks
1 1/2dozen eggs
17 ounces fresh baby spinach
10ounces lowfat cheddar cheese in block or 2 1/2cups shredded
1pound whole wheat penne pasta
Pantry items
Black pepper
Salt
Chicken or vegetable broth; low sodium
Dijon mustard
Flour
Garlic
Herbs; fresh or dried
Olive oil
Red wine vinegar
Soy sauce; low sodium
Ingredients
2C coarsely chopped pineapple
1C water
2 garlic cloves; minced
1t dried rosemary (or your favorite dried herbs)
1t salt
2t freshly ground black pepper
1 lb chicken breasts; lightly pounded, cut into 2" cubes
12 pineapple cubes (2" each)
For the salsa
2C diced fresh pineapple
2 medium tomatoes, cored, diced
1/2 C chopped fresh spinach
1T olive oil
2 garlic cloves; minced
2T fresh or dried cilantro (or your favorite fresh or dried herbs)
1/4t salt
Cooking Directions
Place chopped pineapple, garlic, rosemary, salt and pepper in a blender. Blend, adding water as needed to thin to consistency of barbecue sauce. Place chicken and 3/4 of pineapple mixture in large ziptop bag , turn bag to coat. Marinate for up to 30 minutes, reserve remaining mixture for basting.
While the chicken marinates (or up to 1 hour ahead) make the salsa. Combine all ingredients. Let stand at room temperature for at least 10 minutes at room temperature to blend flavors. Heat grill to medium. Remove chicken from marinade (discard marinade). Place chicken cubes on grill and cook for 4 minutes, turning after 2 minutes. Remove from grill.
Once chicken is cool enough to handle, thread skewers with 4 pieces of chicken and 3 chunks of pineapple, alternating chicken and pineapple. Start and end with chicken. Place kebobs on grill over medium heat, cook 3 minutes. Baste with remaining pineapple mixture, turn, baste again and cook another 3 minutes. Spoon 1C pineapple salsa on each of 4 dinner plates. Remove kebabs from grill and serve over salsa.
Other Recipes That You Might Like