Cherry Ginger Scones
Recipe Courtesy "The CarbLovers Diet"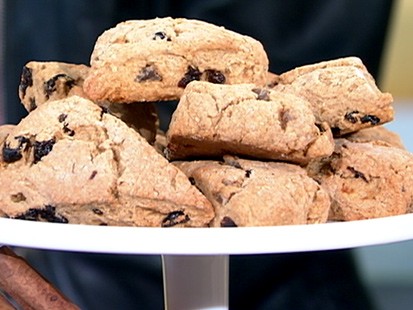 From the kitchen of Ellen Kunes and Frances Largeman-Roth
|
Bet you never thought you'd be eating scones while you were on a diet! These scones, however, are so diet friendly that they aren't even a dessert - you can have them for breakfast. High in fiber, protein, and Resistant Starch, they will keep you satisfied in every way.
For more information on "The CarbLovers Diet," please visit www.carblovers.com.
Ingredients
1 1/2 cups whole-wheat pastry flour
1 cup old-fashioned rolled oats
1/4 cup packed brown sugar
2 teaspoons baking powder
1/2 teaspoon baking soda
1/4 teaspoon salt
1/2 cup unsalted butter
1 cup dried cherries
1/2 cup crystallized ginger, coarsely chopped
1/4 cup low-fat buttermilk
2 large egg whites, whisked
All-purpose flour, as needed
Cooking Directions
Preheat oven to 250 degrees F. Line a baking sheet with parchment paper, and set aside.
Combine flour, oats, brown sugar, baking powder, baking soda, and salt in a food processor. process 10 seconds or until oats are finely chopped. Add butter; process until mixture resembles coarse meal.
Transfer flour mixture to a large mixing bowl; stir in cherries and crystallized ginger.
Combine buttermilk and egg whites in a small bowl; stir with a whisk. Add buttermilk mixture to flour mixture; stir just until a sticky dough forms.
Transfer dough to parchment paper-lined baking sheet, and pat into a 9-inch circle (about 1-inch thick). Sprinkle with all-purpose flour, if necessary, to keep the dough from sticking to hands. Divide the dough into 8 equal wedges. Separate wedges slightly, and bake at 350 degrees for 25 minutes or until golden brown and a wooden pick inserted in center comes out clean.
Other Recipes That You Might Like