Watermelon Tart
Chef Dan Barber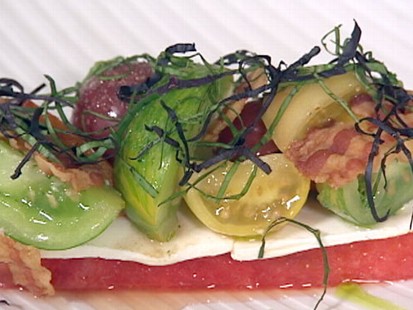 Executive chef Dan Barber sears watermelon and locks in sweetness.
From the kitchen of Dan Barber
|
Ingredients
For the Tart:
4 half-inch-thick slices seedless watermelon, 4" x 1 1/2"
2 ounces goat cheese
1 pint cherry tomatoes, sliced
4 leaves of basil, cut into chiffonade
1/4 lb. pancetta, thinly sliced
raspberry vinegar
salt and pepper
extra virgin olive oil
Tomato cloud, below
For the Tomato cloud:
4 sheets gelatin, bloomed
2 cups tomato water (see instructions)
Salt and pepper
Cooking Directions
For the tart: Preheat oven to 400ºF. Places the slices of pancetta on a rack over a baking sheet, and bake in the oven for 8 minutes. Remove to paper towel to drain.
In a saute pan over very high heat, heat a very small amount of olive oil and sear the watermelon slices until one side is caramelized. Remove the slices and plate, caramelized-side up.
Add a thin layer of goat cheese to the center of each watermelon slice, leaving a border of watermelon around the edges.
Season the tomatoes with salt, pepper and raspberry vinegar, and layer on top of the goat cheese. Garnish with basil and crisped pancetta.
To serve, spoon over the tomato cloud.
For tomato water: Place a whisking bowl over a bowl of iced water.
In a small saucepan, warm the tomato water to around 100 degrees F and add the bloomed gelatin sheets.
Pour the mixture into the bowl and whisk vigorously. As it chills, the water will begin to form a cloud and the gelatin will set.
Season with salt and pepper.
Other Recipes That You Might Like