Black Bean and Zucchini Quesadillas
Recipe Courtesy "The CarbLovers Diet"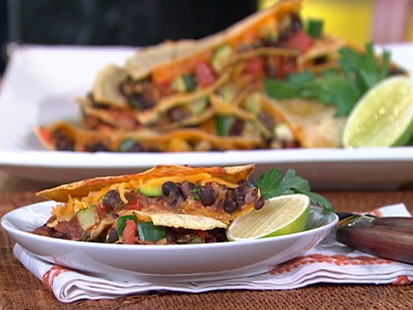 From the kitchen of Ellen Kunes and Frances Largeman-Roth
|
If you're making this lunch ahead and taking it to the office, just pop it in the microwave for 1 minute to reheat.
For more information on "The CarbLovers Diet," please visit www.carblovers.com.
Ingredients
1/2 cup canned black beans, rinsed and drained
2 tablespoons salsa
1/2 cup zucchini, finely chopped
4 6-inch corn tortillas
4 tablespoons Cheddar cheese, shredded
Cooking Directions
Combine beans and salsa in a small bowl; mash with a fork. Stir in zucchini.
Layer 2 tortillas with half of the bean mixture, sprinkle with 2 tablespoons cheese, and top with remaining 2 tortillas. Repeat with remaining tortillas, bean mixture, and cheese.
In broiler or toaster oven, cook quesadillas 1 minute on each side until cheese is melted and bubbly.
Other Recipes That You Might Like