Kewl Krunch Bars
Recipe Courtesy Reed Alexander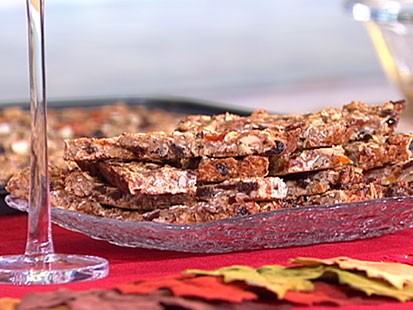 From the kitchen of Reed Alexander
|
Ingredients
2 cups instant quick oats
1 cup whole-wheat flour
3/4 cup raw sugar
3/4 cup dried cherries, roughly chopped
1/2 cup dried apricots, roughly chopped
1/2 cup wheat germ
1/2 cup honey
1/4 cup almonds, roughly chopped
1/4 cup of walnuts, roughly chopped
1/4 cup of unsweetened applesauce
1/4 cup canola oil
2 egg whites
1/2 teaspoon ground cinnamon
1/2 teaspoon salt
Canola oil spray (for lightly coating baking sheet)
Cooking Directions
Preheat the oven to 350 degrees F. Lightly coat a 9x13-inch baking sheet with canola oil spray.
In a large bowl, thoroughly mix all dry ingredients -- the instant quick oats, whole-wheat flour, raw sugar, wheat germ, ground cinnamon, and salt.
In a smaller bowl, thoroughly mix all wet ingredients?the honey, unsweetened applesauce, canola oil, and egg whites.
Pour the mixture of the wet ingredients formed in Step 3 into the larger bowl containing the mixture of the dry ingredients created in Step 2. Stir to thoroughly mix the two, until a rich, thick batter has formed.
Stir into the batter the roughly chopped dried fruits (the dried cherries and dried apricots) and the roughly chopped nuts (the almonds and walnuts), until they are completely distributed.
Press the batter into the baking sheet, spreading it out until it occupies the full capacity of the baking sheet in a smooth and even layer.
Place the baking sheet in the oven and bake for approximately 25-30 minutes, or until the batter is cooked through
Remove the baking sheet from the oven, and allow the batter to cool completely in the baking sheet before cutting into approximately 20 rectangular bars. To do so, make a single cut down the center of the batter by slicing in a direction parallel to the longer 13-inch sides of the baking sheet. Next, make ten cuts slicing from one 13-inch side of the baking sheet to the other, and parallel to the shorter 9-inch sides of the baking sheet, with the first being made approximately 1 1/3 inches from one side of the baking sheet. Continue to make each of the remaining nine cuts at a distance of 1 1/3 inches from the previous cut, until approximately 20 Kewl Krunch Bars have been formed.
Carefully lift the Kewl Krunch Bars from the baking sheet. Enjoy this satisfying and nutritious treat!
Other Recipes That You Might Like