Mortadella Ripiena
Different Take on the Hot Pocket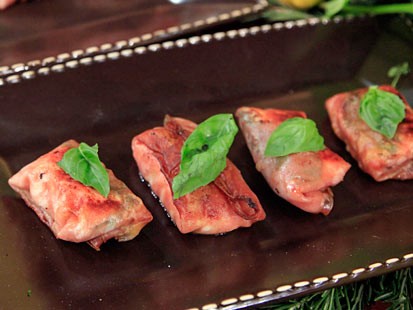 From the kitchen of Mario Batali
|
CLICK HERE to check out a preview of the mouth-watering "Mario Batali Cooks!" iPhone application.
Ingredients
24 thin slices mortadella
12 ounces fresh soft goat cheese or fresh ricotta, cut into 12 equal pieces
12 fresh basil leaves, plus more for garnish
Extra-virgin olive oil, for drizzling
Toothpicks
Cooking Directions
Stack 2 slices of mortadella on top of each other. Place about 1 ounce of the cheese in the very center of the mortadella. Press a basil leaf down on top of the cheese.
Fold the bottom of the mortadella over the cheese, then fold over the sides and roll up the cheese in the mortadella (like a burrito). Secure each one with a toothpick. Repeat with the remaining ingredients.
In a 12-inch nonstick saute pan, heat olive oil until relatively hot. Add mortadella packets, flat side down. Cook for two minutes, turn them over, and cook for one more minute or until golden brown.
Serve the mortadella packets with a fresh basil leaf on top.
Food styled by Karen Pickus
Other Recipes That You Might Like