Spooky Stacks with Bloodshot Eggs
Recipe Courtesy Diane Henderiks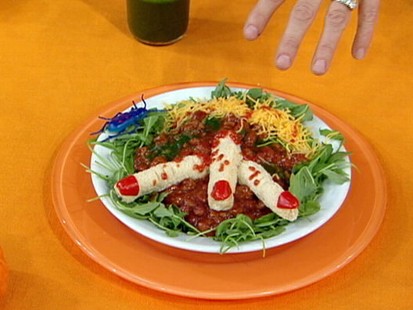 New ideas for fun Halloween meals for the family.
From the kitchen of Diane Henderiks
|
Ingredients
For the Pancakes:
2C whole wheat flour
1/4C rolled oats
1/4C extra dark Cocoa powder
2T wheat germ
1T ground flax seed
1/4C crushed shredded wheat
1T baking powder
1t cinnamon
1/2t nutmeg
2 1/2 C low fat milk
3 egg whites- beaten
1/3C canola oil
1t pure vanilla extract
1T honey
For the Eggs:
4 eggs
1 tablespoon ketchup
Cooking Directions
Combine first 8 ingredients together (flour through nutmeg).
In separate bowl, combine next 5 ingredients together (milk through honey).
Add milk mixture to flour mixture.
Cook on lightly oiled pan or griddle.
Top 2 stacked pancakes with 1 sunny side up egg.
Using toothpick or squeeze bottle, place red lines of ketchup around the "white of the eye"
Enjoy!
Other Recipes That You Might Like