The Masterpiece Pizza
A College Favorite With All the Toppings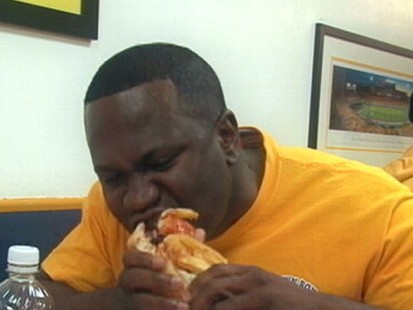 Ron Claiborne goes across the U.S. for the best college food.
From the kitchen of Shakespeare's Pizza
|
Missouri college students and locals swear by Shakespeare's famed pizza. Now you can make a delicious pie at home complete with all the right toppings.
Ingredients
Frozen Pizza Dough (usually available in your local grocer's freezer)
Pizza Sauce
Shredded Provolone
Sliced Red Onions about 1/8th inch thick
Sliced Pepperoni about 1/8th inch thick
Sliced Canadian Bacon about 1/8 inch thick
Sliced Mushroomsabout 1/8th inch thick
Sliced Ripe Black Olives
Green Peppers
Italian Sausage in nickle sized balls
Lean Ground Chuck in nickle sized balls
Flake oregano
Cooking Directions
Preheat oven to 450 degrees F.
Construct the pizza. Form the dough into a desired size using a rolling pin and flour. First add the pizza sauce and then the shredded provolone cheese. Then add the toppings in this order red onion, pepperoni, canadian bacon, mushrooms, black olives, green peppers, italian sausage and finally ground chuck.
Bake the pizza. Place the pizza on a pizza stone or on the open rack and cook until the meatballs are no longer pink in the middle.
Recipe Summary
Main Ingredients: pizza dough, pizza sauce, provolone, red onion, pepperoni, canadian bacon, mushrooms, black olives, green peppers, italian sausage, ground chuck
Other Recipes That You Might Like