Seared Salmon with Lentils
A Fresh and Healthy Fish Dish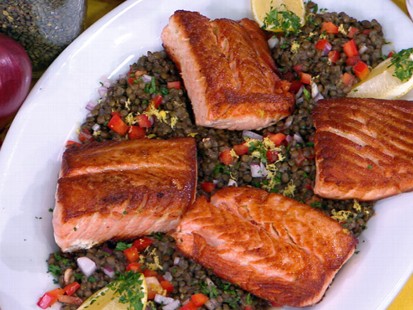 The chef shakes up ho-hum meals with beneficial twists.
From the kitchen of Emeril Lagasse
|
This fish dish is a snap and just a delicious. Try it tonight with your family.
Ingredients
9 tablespoons olive oil, plus more for drizzling (optional)
1 1/4 cups diced red onion (small dice)
1/2 cup diced celery (small dice)
2 cups French green lentils
8 cups chicken stock or canned, low-sodium chicken broth
1 bay leaf
Salt
Four 6-ounce salmon fillets, skin on
Freshly ground black pepper
1 cup diced red bell pepper (small dice)
1/4 cup chopped fresh parsley
3 tablespoons balsamic vinegar
1 teaspoon grated lemon zest
Cooking Directions
Heat 3 tablespoons of the olive oil in a medium saucepan over medium-high heat. When it is hot, add 1 cup of the onion and the celery and cook, stirring, until soft, about 4 minutes. Add the lentils, chicken stock, and bay leaf, and bring to a boil. Reduce the heat to a simmer and cook, uncovered and stirring occasionally, until the lentils are just tender, 35 to 45 minutes. Season to taste with salt, and then drain the lentils in a colander. Set aside while you prepare the salmon.
Season the salmon fillets on both sides with salt and pepper to taste. Heat 3 tablespoons of the remaining olive oil in a medium sauté pan over medium-high heat. Place the salmon in the pan, skin side down, and cook until golden brown and crisp, 3 to 4 minutes. Turn the fillets over and cook to the desired degree of doneness, about 2 minutes for medium-rare. Transfer the salmon to paper towels to drain briefly.
Transfer the drained lentils to a mixing bowl and add the remaining 1 /4 cup red onion, the bell pepper, parsley, balsamic vinegar, lemon zest, and the remaining 3 tablespoons olive oil. Toss well to combine, and adjust the seasoning if necessary. Divide the lentils among four wide, shallow bowls, and top each with a salmon fillet. Serve immediately, drizzled with olive oil if
Recipe courtesy "Emeril 20-40-60: Fresh Food Fast" by Emeril Lagasse, Harper Studio Publishers, 2009, copyright MSLO, Inc., all rights reserved
This recipe was styled by chef Karen Pickus for Good Morning America.
Other Recipes That You Might Like