Supersize Spaghetti with Spaghetti Squash
Indulge in this healthy pasta dish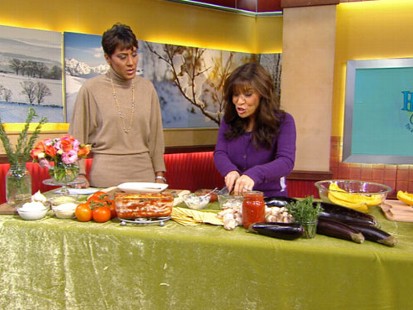 Lisa Lillien has tricks for cutting the fat while still indulging the craving.
From the kitchen of Lisa Lillien
|
Are you counting calories? Here's a healthy pasta dish is full on flavor and light on calories.
Ingredients
1 serving (2 oz.) uncooked whole-wheat spaghetti
1 1/2 cups steamed spaghetti squash
Cooking Directions
Prepare pasta per package instructions. Meanwhile, place quartered spaghetti squash in a large microwave-safe bowl with 1/4 cup water. Cover and microwave until soft, about 8 minutes.
Once cool enough to handle, scrape spaghetti squash strands out with a fork. Toss 1 1/2 cups squash with the cooked pasta and serve with your fave sauce!
Click here to learn more about her new show
This recipe was styled by chef Karen Pickus for Good Morning America.
Other Recipes That You Might Like