Tequila-Spiked Queso Fundido
Start Your Meal Off With This Cheese Fondu Starter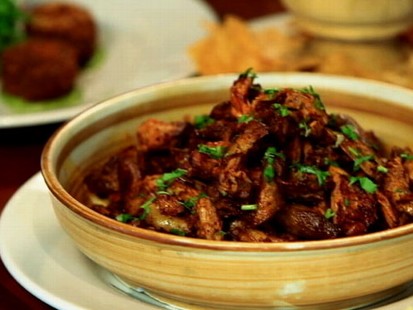 Exec. Chef Aaron Sanchez translates foods with Epicurious.
From the kitchen of Aaron Sanchez
|
Ingredients
½ cup sliced , seeded fresh poblano pepper
½ cup sliced white onion
1 Tbl olive oil
½ cup of tequila
1½ cups shredded Chihuahua, Queso Oaxaca, Monterey Jack cheese-mix of three is great.
½ cups finely chopped tomato
1 Tbl chopped fresh cilantro
Cacique Chorizo sausage,cooked,well-drained, and crumbled ½ cup , cooked
Cooking Directions
Preheat oven to 350'F. In a skillet, cook the poblano and onion in hot oil until tender. Remove pan from heat. Carefully add tequila. Return to heat and simmer, uncovered, for 15 to 20 seconds or until most of the tequila has disapated.
In a medium bowl, toss cheese mixture over vegetables.
Bake uncovered for about 10-15 minutes or until cheese is just melted. Sprinkle with chorizo and cook some more, until heated through. Sprinkle with tomato and cilantro. Serve with tortillas.
Recipe Summary
Main Ingredients: poblano pepper, white onion, olive oil, tequila, chihuahua, queso oaxaca, monterey jack, tomato, cilantro, cacique chorizo sausage
Course: Side Dish, Appetizer/Starter
Other Recipes That You Might Like