Simple Sautéed Escarole with Garlic and Crushed Red Pepper
Add Some Escarole to You Dinner Tonight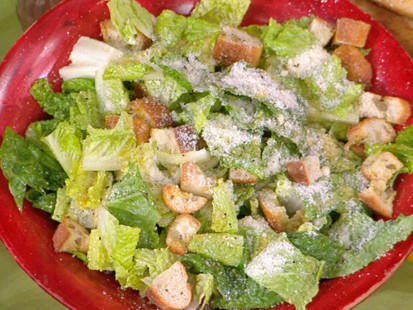 The famous chef has diet-friendly versions of all your favorite Italian dishes.
From the kitchen of Emeril Lagasse
|
Are you looking for a way to spice up your daily vegetables? Try Emeril's simple sauteed escarole.
Ingredients
2 tablespoons olive oil
1 1/2 tablespoons minced garlic
1/4 teaspoon crushed red pepper
2 heads escarole, about 1 1/2 pounds total, rinsed and cut into 1-inch slices crosswise
1 cup chicken broth
3/4 teaspoon kosher salt
1/2 lemon, juiced, for serving, or to taste
Extra-virgin olive oil, for drizzling, optional
Cooking Directions
Heat the olive oil in a large saute pan and, when hot, add the garlic and crushed red pepper and cook, stirring, until garlic is fragrant; do not allow the garlic to brown. Add the escarole, chicken broth, and salt and cover the pan. Cook until wilted, about 2 minutes. Uncover pan and continue to cook, stirring, until cooking juices are nearly evaporated and escarole is tender, 2 to 4 minutes. Taste and reseason, if necessary. Serve drizzled with lemon juice, to taste, and extra-virgin olive oil if desired.
This recipe was styled by chef Karen Pickus for Good Morning America.
Other Recipes That You Might Like