Yaki Hama
Start Your Meal Off With These Baked Clams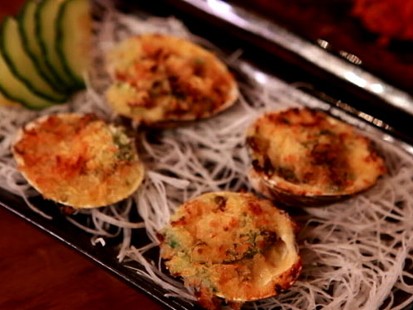 Executive Chef Eric Bromberg give a lesson in Blue Ribbon seafood.
From the kitchen of Eric Bromberg
|
Breaded and Baked Little Neck Clams
Ingredients
Yaki Hama
Scallions
Little Neck Clams
Panko
Miso Butter-
Miso Butter
1 Lb of Butter
6 oz of Shiro Miso
Cooking Directions
Warm butter until soft, mix in miso well.
Chill and then cut into desired size.
Open Littleneck clams
PLace Miso Butter on top of clam
Sprinkle scallions and panko breadcrumbs over the butter
Place in 450 degree oven and bake for 4-6 minutes
Other Recipes That You Might Like