Turkey Apple Breakfast Sausage
The Perfect Addition to Your Daily Breakfast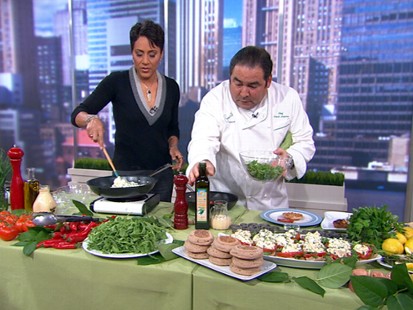 "GMA" will reward one lucky mom with breakfast in bed from Emeril Lagasse.
From the kitchen of Emeril Lagasse
|
Round out your breakfast with Emeril's easy turkey apple breakfast sausage.
Ingredients
1 tablespoon plus 2 teaspoons olive oil
1½ teaspoons fennel seed
½ cup chopped onion
2 teaspoons chopped garlic
1 teaspoon Hungarian sweet paprika
1 teaspoon salt
1/8 teaspoon cayenne
½ pound ground turkey thigh
½ pound ground turkey breast
1 tablespoon chopped fresh parsley
1 tablespoon chopped fresh oregano or thyme
1 cup peeled and small diced Fugi or gala apple
Cooking Directions
Heat 1 tablespoon of the oil in a 12-inch non-stick skillet over medium heat. Add the fennel seed and toast for one minute, stirring as needed to prevent burning. Add the onions and cook until translucent about 3 minutes. Add the garlic, paprika, salt, and cayenne, and cook for 1 minute longer. Remove the pan from the heat and set aside to cool.
In a medium bowl add the ground turkey meat, the herbs, the apple, and the cooled onion mixture. Wipe the pan clean and return it to the stove. With gloved hands or a spoon, gently mix the turkey with the seasonings and form the mixture into 6 patties, about 3 ½ ounces each. Set them aside on a tray.
Heat half of the remaining olive oil in the 12-inch non-stick skillet over medium-low heat. Add three of the patties and cook for 5 or 6 minutes per side, until golden brown, and cooked through. Remove from the pan and keep warm until all sausages are cooked. Repeat with the remaining teaspoon of oil and the sausage patties. Serve immediately.
Recipe courtesy Emeril Lagasse, copyright MSLO, Inc., all rights reserved
This recipe was styled by chef Karen Pickus for Good Morning America.
Recipe Summary
Main Ingredients: olive oil, fennel, onion, garlic, paprika, salt, cayenne, turkey thigh, turkey breast, thyme, apples
Other Recipes That You Might Like