Stephanie O'Dea's Slow Cooker Honey-Glazed Ham with Thyme
Make Easter Dinner Easy With Stephanie's Slow-Cooked Ham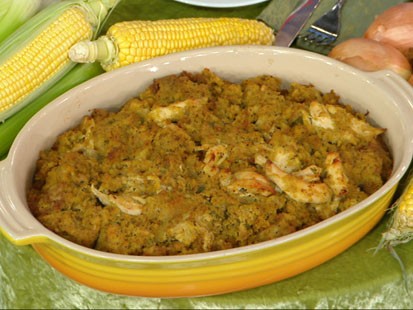 The slow-cooker challenge champion prepares her winning recipe.
From the kitchen of Stephanie O'Dea
|
Guess what? Easter is right around the corner. Don't freak out—you can make the entire meal by utilizing the best kitchen appliance known to man: the slow cooker.
I love the ease of entertaining when I've got a few slow cookers plugged in and lined up on the countertop. I like to load them up early in the morning while the kids are still sleeping, and then shoo everyone out of the kitchen until dinner is served. I appreciate the opportunity to mingle with our guests and that I can participate in the outdoor Easter egg hunt (it gets competitive in our family!) instead of being holed up inside manning the food.
This ham is one of our favorites, and I'll be making a double batch (two cookers) this year.
Ingredients
1 (5-to-7 pound) bone-in, spiral cut ham
¼ cup apple cider vinegar
¼ cup honey
¼ cup butter, melted
1 teaspoon Worcestershire sauce (ours is gluten free)
1 tablespoon brown sugar
2 teaspoons ground thyme
Cooking Directions
Use a 6-quart or larger slow cooker. Unwrap the ham completely and discard the flavor packet. Put the ham into your slow cooker. In a small mixing bowl, combine the vinegar, honey, butter, Worcestershire sauce, brown sugar, and thyme. Rub this concoction all over your ham. Do not add water or additional liquid.
Cover and cook on low for 6 hours, or until heated through. Serve with your favorite side dishes.
other crowd-pleasing Easter slow cooking ideas:
Leg of Lamb with Rosemary and Lemon
Company's Coming Potatoes AuGratin
The Best Brussels Sprouts, ever!
But whatever you do, don't try to hard boil eggs in your slow cooker!
Stephanie O'Dea is a New York Times best-selling author of the Make it Fast, Cook it Slow cookbooks, blogger, slow-cookerer, and shortcut queen.
Other Recipes That You Might Like