Fennel and Chorizo Mussels
Mussels in Minutes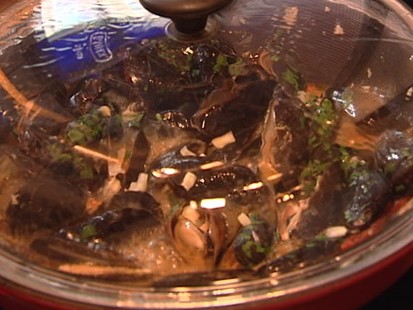 Brasserie Beck's executive chef Robert Wiedmaier's easy, one-pot seafood dish.
From the kitchen of Robert Wiedmaier
|
Ingredients
Yields: One Serving
Ingredients
.33 cup fennel, medium diced
.5 cup Spanish chorizo, diced and dried
1.5 cups dry vermouth or white wine, separated
1 tablespoon tomato paste
1 tablespoon unsalted butter
1 tablespoon garlic, minced
1 tablespoon shallot, minced
1 pound Penn Cove mussels, cleaned and de-bearded, in the shell
Cooking Directions
Procedure
Add the diced fennel and chorizo to a hot pan and sauté together over medium heat for about 2 minutes. Add 1/2 cup of the vermouth or white wine to deglaze the pan. Add the tomato paste. Turn the heat to low, and let the ingredients simmer for 3 minutes. Set aside.
To a pot or heavy pan over medium heat, add the butter. Sweat the garlic and shallot until translucent, about 45-60 seconds. Add the mussels and remaining 1 cup of the vermouth or white wine, and cover the pot. When the mussels are almost open (about 90 seconds-2 minutes), add the fennel, chorizo, and tomato paste mixture and cover. Once all of the mussels are open (about 2 more minutes), serve and enjoy.
Cooked mussels can be eaten directly from the pot or pan or transferred to a wide rim soup bowl. Keep covered until just prior to eating as they cool quickly.
Recipe Summary
Main Ingredients: mussels, tomato paste, white wine, fennel, garlic, chorizo, spices, chicken broth
Course: Appetizer/Starter, Casserole, Lunch, Dinner
More Info: Kids Friendly
Other Recipes That You Might Like