Emeril's Pain Perdu with Fresh Strawberry Syrup
Treat Your Mom to a Sweet and Savory Breakfast Dish This Mother's Day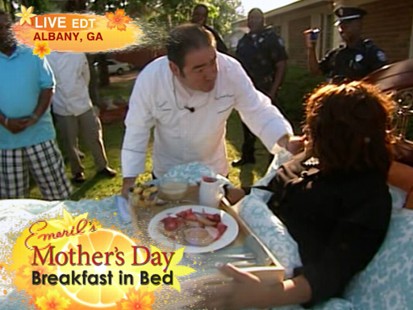 Mary Tyson enjoys a well-deserved breakfast prepared by Emeril Lagasse.
From the kitchen of Emeril Lagasse
|
Celebrate Mother's Day like Emeril Lagasse with this sweet and savory breakfast dish, perfect for your deserving mom!
Ingredients
Fresh Strawberry Syrup, for serving, recipe here
1 large orange
3 eggs
3/4 cup milk
1/2 teaspoon ground cinnamon
1/8 teaspoon grated nutmeg
2 tablespoons sugar
1 1/2 teaspoons vanilla extract
1 stick (1/4 pound) butter
8 slices Brioche or other sliced bread such as French bread
Cooking Directions
Prepare the Strawberry Syrup and set aside until ready to serve.
Grate the orange rind until you have about 1 tablespoon zest. Cut the orange in half and squeeze it. Mix 1/4 cup of the juice with the zest in a mixing bowl. Use the rest for another purpose.
Add the eggs, milk, cinnamon, nutmeg, sugar, and vanilla. Whisk together to dissolve the sugar.
Heat 2 tablespoons of the butter in a nonstick skillet over medium-high heat. Dip 2 slices of the bread into the egg-milk mixture, coating evenly. Fry in the butter until golden brown, 2 to 3 minutes on each side. Repeat until all the butter and bread is used.
Sprinkle with toppings of choice, such as syrup, powdered sugar, or whipped cream. Serve hot.
Recipe courtesy Emeril Lagasse, copyright MSLO, Inc., all rights reserved
Other Recipes That You Might Like