Emeril's Grilled Marinated Skirt Steak with Chimichurri Sauce
Fire up your grill for dinner tonight.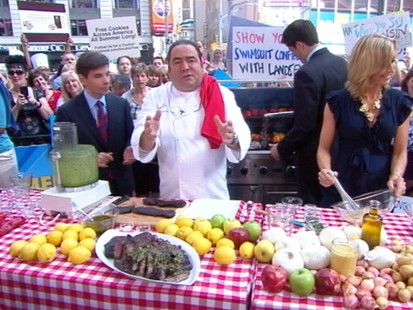 Emeril Lagasse also prepares potato salad for a memorable Memorial Day feast.
From the kitchen of Emeril Lagasse
|
Can't figure out what to make for dinner? Give this grilled steak a try.
Ingredients
For the steak:
11/2 cups dry sherry
1/2 cup sherry vinegar
1 cup thinly sliced red onion
2 tablespoons minced garlic
1/2 cup olive oil
Two 12-ounce skirt steaks or One 11/2- to 2-pound flank steak
2 teaspoons salt
1 teaspoon freshly cracked black pepper
Chimichurri Sauce (recipe follows), for serving
For the chimichurri sauce:
1 cup extra-virgin olive oil
2/3 cup sherry vinegar
2 tablespoons freshly squeezed lemon juice
1 cup chopped fresh flat-leaf parsley
1/4 cup chopped fresh basil
3 tablespoons minced garlic
2 tablespoons minced shallots
1 tablespoon chopped fresh oregano
1/2 teaspoon kosher salt
1/4 teaspoon freshly cracked black pepper
1/4 teaspoon crushed red pepper
Cooking Directions
For the skirt steak:
In a shallow nonreactive bowl that is large enough to hold the steak(s), combine the sherry, sherry vinegar, red onion, garlic, and olive oil. Stir to blend well. Lay the steak over the marinade and turn so that the meat is coated on both sides. Wrap the bowl loosely in plastic wrap and refrigerate overnight, turning the steak(s) occasionally.
Preheat a grill to high.
Remove the steak(s) from the marinade (discard the marinade), and season it with the salt and pepper. Grill for 4 to 5 minutes per side for medium-rare. Remove it from the grill and let it rest for 5 minutes. Then thinly slice the steak across the grain, and serve it with the Chimichurri Sauce.
For the sauce:
Combine the olive oil, vinegar, lemon juice, parsley, basil, garlic, shallots, and oregano in a food processor, and pulse until well blended (do not puree). Stir in the kosher salt, black pepper, and crushed red pepper. Transfer the sauce to a nonreactive bowl, cover it with plastic wrap, and set it aside for at least 2 hours and up to 6 hours at room temperature. (The sauce will keep in an airtight nonreactive container in the refrigerator for up to 3 days.)
This recipe was styled by chef Karen Pickus for Good Morning America.
Recipe courtesy Emeril Lagasse, from Emeril at the Grill, Harper Studio Publishers, New York, 2009, copyright MSLO, Inc., all rights reserved
Other Recipes That You Might Like