The Braxton Family's Strawberry Shortcake
How Sweet It Is!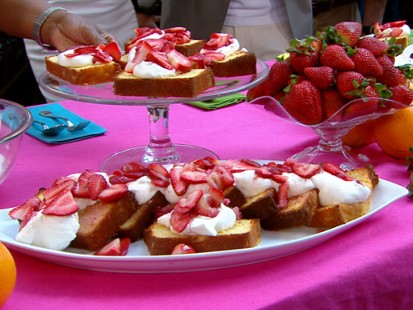 Grammy winner, star of "Braxton Family Values" joins sisters in "GMA" kitchen.
From the kitchen of The Braxton family and Karen Pickus
|
Ingredients
For the Orange Pound Cake
1 ½ sticks unsalted butter, softened
1 ½ cups sugar
3 large eggs
1 ½ cup all purpose flour
1 ½ tsp. baking powder
¼ tsp. salt
1/3 cup nonfat Greek yogurt
Zest and juice of 1 orange
For the Strawberries
1 Lb. fresh strawberries, hulled and sliced
2 to 3 tbsp. sugar
2 to 3 tbsp. Grand Marnier (optional)
For the Whipped Cream
2 cups heavy cream
3 tbs. sugar
2 tbs. Grand Marnier (optional)
Cooking Directions
Preheat oven to 350 degrees. Butter and flour a 9 x 5 x 3-inch loaf pan.
In the bowl of an electric mixer, fitted with the paddle attachment, beat the butter and sugar until light and fluffy. Add the eggs, one at a time, scraping down the sides of the bowl in between each addition.
Sift the flour, baking powder and salt into a large bowl. Add the flour mixture all at once to the butter, sugar, and egg mixture. Turn machine on slowly, add the yogurt, orange zest and orange juice while the machine is running. Scrape down the sides, and continue mixing until all ingredients just come together. Remove bowl from mixer and fold the ingredients a few times with a rubber spatula.
Pour batter into the prepared pan and bake for 1 hour until sides are golden and top of cake springs back.
Let cool for ½ hour in the pan, then unmold and cool completely on a wire rack.
You may cover the cake with plastic wrap and refrigerate for easy slicing.
Place strawberries in a bowl and toss with the sugar and Grand Marnier. Set aside.
Beat together heavy cream and sugar in a bowl with an electric mixer at medium-high speed until it holds a soft shape (not stiff). Fold in Grand Marnier.
To Assemble
Cut the pound cake into 8 even slices and toast the cake slices. If desired, toast each slice in the oven until golden around the edges.
Top each slice with the strawberries and their juices.
Place a dollop of whipped cream on each slice. Serve immediately.
This recipe was written and developed by chef Karen Pickus for the Braxton family and "Good Morning America."
Other Recipes That You Might Like