Stephanie O'Dea's Slow Cooker Falafel
A Middle Eastern Favorite Without the Fuss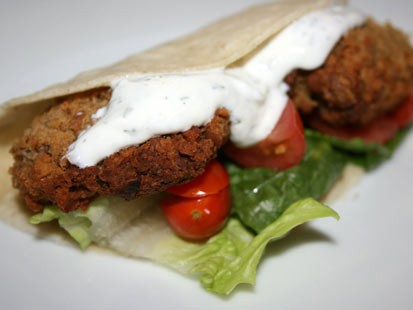 From the kitchen of Stephanie O'Dea
|
Do you love falafel but can't figure out how to make it at home? Let Stephanie O'Dea help. Her recipe is delicious, easy and, of course, slow-cooker friendly.
Ingredients
1 (15-ounce) can garbanzo beans, drained
1 ¼ teaspoons kosher salt
¼ teaspoon black pepper
2 teaspoons ground cumin
1 teaspoon ground coriander
¼ to ½ teaspoon cayenne pepper (your choice)
1 tablespoon dried parsley
½ onion, finely diced
2 garlic cloves, minced
1 large egg
juice of 1 lemon
½ to ¾ cup breadcrumbs (we're gluten free, so I used brown rice bread)
2 tablespoons olive oil, for greasing the stoneware insert
Cooking Directions
Who would have thought that you could make perfect falafel in the slow cooker with hardly any oil and they would turn out slightly crisp on the edges, moist in the middle, and taste exactly like they should?
I certainly didn't until I tried. This recipe has been made hundreds of time by readers all over the world, and has gone slighty viral on the web (which, I'm not going to lie, is kind of cool!).
I know it looks like a lot of ingredients, but this comes together really quickly, I promise. It only takes about 25 minutes to do all the prep and falafel-making.
Pour the drained garbanzo beans into a large mixing bowl and smash with a fork. Set aside.
Use a food processor to pulse salt, pepper, all of the spices, parsley, onion, garlic, egg, and lemon juice. Pour this mixture on top of the smashed garbanzo beans. Use a fork to mix, and slowly add breadcrumbs until the mixture is wet and sticky but can be formed nicely into flattened golf balls.
Rub the olive oil around in the bottom of your stoneware insert (crock). Form your falafel patties—you should be able to get 8 or 9. Dip each side of the falafel into the oil, then nestle them all in the bottom of the pot. It's okay if they slightly overlap, or are on top of each other a bit.
Cover and cook on high for 2 to 5 hours (mine take 3 ½ hours), or until they turn a nice brown/gold color. You can flip them halfway through cooking if you'd like, but they will brown on both sides even without flipping.
Stuff into folded corn tortillas, or pita bread with your favorite toppings.
Enjoy!
Stephanie O'Dea is a New York Times best-selling author of the Make it Fast, Cook it Slow cookbooks, blogger, slow-cookerer, and shortcut queen.
Other Recipes That You Might Like