Mike Mills' 17th Street's Creamy Deviled Eggs
Fill Up on This America Favorite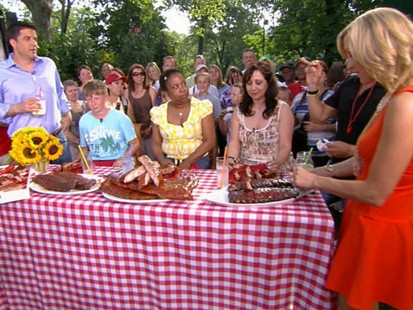 Top pitmasters cook up famous barbecue recipes for ribs, sauce, sides on "GMA."
From the kitchen of Mike Mills
|
Are you looking for something that will go well with your barbeque? Give these deviled eggs a try.
Ingredients
24 large eggs
1 1/3 cups mayonnaise
2 tablespoons rice wine vinegar
2 1/2 teaspoons Dijon mustard
2 tablespoons Colman's dry mustard
3 tablespoons sugar
3 dashes Frank's Red Hot sauce
Salt and freshly ground black pepper
Dry Rub Seasoning (your favorite)
Cooking Directions
Place the eggs in a saucepan, cover with cold water, and bring to a boil over high heat. Reduce the heat, and simmer for exactly 9 minutes. Pour off most of the water and immediately run cold water over the eggs.
Crack the eggshells and peel the eggs under running water. Cut the eggs in half lengthwise. Remove the yolks, and reserve. Mash the yolks with a fork or pass them through a fine sieve into a bowl. Add the mayonnaise, vinegar, mustards, sugar and hot sauce to the bowl, and mix together with a rubber spatula until smooth. Season to taste with salt and pepper.
Spoon the egg-yolk paste into a pastry bag with a star tip, and pipe the mixture into the egg whites to form rosettes or use a teaspoon to mound the yolk into the egg whites.) Sprinkle the top of the eggs with dry rub.
Refrigerate immediately.
This recipe was styled by chef Karen Pickus for "Good Morning America."
© 2011 Mike Mills & Amy Mills. Adapted from Peace, Love, and Barbecue (Rodale) and reprinted with permission from Rodale.
Other Recipes That You Might Like