Mario Batali's Fresh Favas, Mozzarella and Basil Bruschetta
Fill Up on This Fresh Bruschetta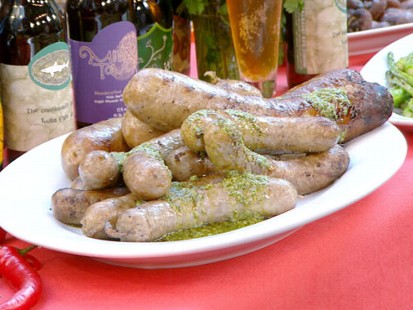 Famous chef shares his must-have recipes for your dad.
From the kitchen of Mario Batali
|
It's getting hot out, and motivating to make dinner can be difficult. Mario Batali makes this easy with his refreshing bruschetta.
Ingredients
2 pounds young fava beans in the pod, shelled
4 ounces fresh mozzarella, cut into ¼-inch dice
3 garlic cloves, thinly sliced
1 teaspoon dried oregano, crumbled
12 medium fresh basil leaves, cut into chiffonade (thin slivers)
1 teaspoon hot red pepper flakes
3 tablespoons extra-virgin olive oil
Kosher salt
Eight ¾-inch-thick slices Italian peasant bread
Coarse sea salt
Cooking Directions
Preheat a gas grill or prepare a fire in a charcoal grill.
If the fava beans are young and tender, there is no need to peel them. If not, blanch the beans in a medium pot of boiling salted water for 30 seconds, just to loosen the skins. Drain, transfer to an ice bath to cool, and drain again. To peel the favas, pinch open the skin at one end of each bean and squeeze out the bean.
In a medium bowl, combine the fava beans, mozzarella, garlic, oregano, basil, red pepper flakes, and oil and toss or stir gently to mix. Season lightly with kosher salt and mix gently again. Set aside.
Grill the bread until dark golden brown lines form on the first side, 1 to 2 minutes, then turn over and repeat on the second side.
Arrange the grilled bread on a platter, top with the fava bean mixture, and sprinkle with coarse salt. Serve immediately.
This recipe was styled by chef Karen Pickus for "Good Morning America."
*Recipe courtesy of Mario Batali
Other Recipes That You Might Like