Sunny Anderson's Sunny's Easy Baked Beans
Dig Into This Delicious Side Dish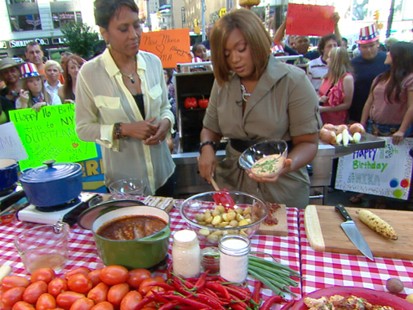 Food Network star prepares her easy baked beans and creamy potato salad.
From the kitchen of Sunny Anderson
|
Sunny Anderson knows how you please your palate without making you work too hard. These baked beans are the perfect example. Give them a try at your fourth of July barbeque.
Ingredients
6 pieces bacon
1 cup chopped onion
6 to 8 sprigs fresh thyme
Kosher salt and freshly ground black pepper
1/2 cup dark brown sugar
3 cloves garlic, grated on a rasp
1 tablespoon dry mustard
1 teaspoon sweet paprika
1/2 cup ketchup
2 tablespoons Worcestershire sauce
2 tablespoons Sriracha
4 Roma tomatoes, seeded and chopped
3 (15.5-ounce) cans cannellini beans, 1 drained
4 cups beef stock
Cooking Directions
Heat the oven to 350 degrees F.
Over a Dutch oven or oven-safe pot, cut 3 strips of the bacon into small pieces and cook on medium-high heat until the fat is rendered and the bacon is crisp. Remove the bacon to a paper towel-lined plate leaving the fat in the pot. Add the onions, thyme, and then season with salt and pepper. Cook until the onions are tender and translucent, about 5 minutes. Add the brown sugar, garlic, dry mustard, paprika, ketchup, Worcestershire sauce, and Sriracha. Stir to mix and cook until the brown sugar melts and the pot begins to bubble. Add the tomatoes, beans (don't drain 2 of the cans), stock, and remaining 3 strips of uncooked bacon.
Cover and place in the oven to bake for 40 minutes, remove the lid and continue to cook for 20 minutes more. Remove from the oven and fish out the bacon strips and discard them, or leave them if you don't mind the texture. Serve the beans warm with chopped bacon sprinkled over the top.
This recipe was styled by chef Karen Pickus for "Good Morning America."
Recipe courtesy Sunny Anderson, 2010
Other Recipes That You Might Like