Stephanie O'Dea's Slow Cooker Stewed Tomatoes
Take a Bite Out of These Savory Tomatoes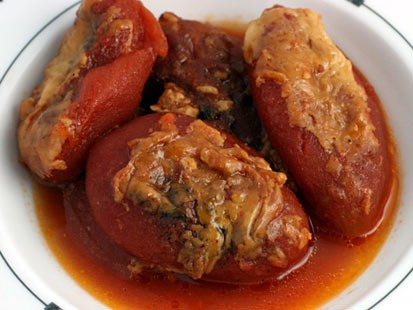 From the kitchen of Stephanie O'Dea
|
If you're grilling outside this summer, take advantage of the slow cooker to make your side dishes—it's an effortless way to add extra vegetables and fiber in your meal, and it won't heat your kitchen the way the stovetop or oven will.
A hundred million years ago (or before we had kids, I forget) Adam and I went out to dinner at a really fancy restaurant. When our meal arrived, we each had two blood-red, mounding blobs at the corner of our plates. "What are those?" he whispered. "I think they're baby animal hearts." I whispered back.
And then we giggled so much that the snooty couple at the next table shot us death glares.
Although they do look odd, these are the most flavorful tomatoes you'll ever taste. I love them, and I'm not normally a tomato girl. I suggest using canned plum tomatoes—although you could use fresh if your tomatoes are ripe. You'll need to skin them first, however.
Ingredients
2 (28-ounce) cans of whole plum tomatoes with basil (drained)
¼ teaspoon ground black pepper
1 ½ cups shredded Parmesan cheese
5 tablespoons butter, sliced
Cooking Directions
Use a 3 or 4 quart slow cooker for this recipe. If you only have a very large slow cooker, insert an oven-safe dish into your cooker and then load in the ingredients.
Drain the tomatoes well (use a strainer, you don't need any of the can liquid). Plop the tomatoes into the cooker. Sprinkle on ground black pepper, and add Parmesan cheese. Slice your butter into thin squares, and dot them over the top of the cheese.
Cover and cook on high for 4 hours, or until cheese is bubbly and is beginning to brown.
Delicious!
Other summery slow cooker side dishes you might enjoy:
baked sweet potatoes with chili, cumin, and lime
Other Recipes That You Might Like