Amy Green's Pear Butter
Looking for Something Different, Try Pear Butter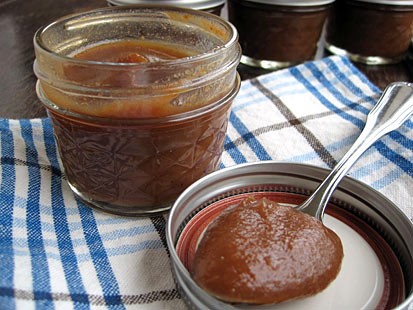 From the kitchen of Amy Green
|
Are you sandwiches getting boring? Are you looking for something new? Try Amy Green's pear butter.
Ingredients
5 pounds Bartlett pears, cored and sliced
1/2 to 3/4 cup unsweetened frozen white grape juice concentrate
3 tablespoons freshly squeezed lemon juice
1 teaspoon ground ginger
1/2 teaspoon ground cardamom
4 orange slices (about 1/2 large orange)
1 vanilla bean, split, or 1 tablespoon vanilla extract
Cooking Directions
Put the pears in a large (5- or 6-quart) slow cooker. Melt 1/2 cup grape juice concentrate in the microwave or on the stovetop and pour over the pears. Add the lemon juice, ginger, and cardamom. Toss with a large wooden spoon to coat the pears. Top with the orange slices and vanilla bean or extract. Cover and cook on low for 5 to 6 hours, until the pears are very tender and have cooked down.
Remove the orange slices and vanilla bean, if using. Puree with an immersion blender in the crock or transfer the pears to a conventional blender or food processor in small batches and puree. Return to the slow cooker and add the remaining 1/4 cup grape juice concentrate for sweetness as needed. If the pear butter isn't thick enough, remove the lid and cook on low, stirring occasionally, until it reaches the desired consistency. It should mound up on a spoon and be spreadable.
Store in glass jars in the refrigerator for up to 2 months, or freeze. This can also be processed in a boiling water bath canner for 10 minutes.
Recipe courtesy Amy Green author of Simply Sugar and Gluten Free.
Other Recipes That You Might Like