Marc Murphy's Big Marc with Spiked Ketchup
Marc Murphy's World Famous Big Marc with Spiked Ketchup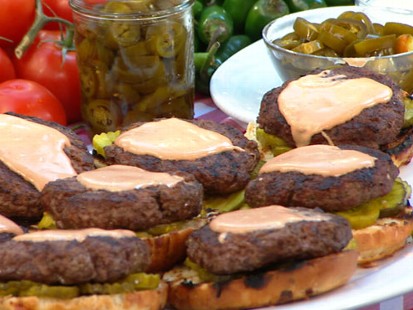 Chef, owner of Landmark and Ditch Plains restaurants grills in Times Square.
From the kitchen of Marc Murphy
|
Vodka on a burger? Kick your end-of-summer barbecue up a notch with Marc Murphy's "Big Marc with Spiked Ketchup" burger. It's one of the most popular items in his New York City restaurants, and now you can serve it to your guests too!
Ingredients
2 1/2 lbs 80/20 ground beef (pressed into 6 oz, 1/2 inch patties)
3 oz Butter, melted
48 slices Bread and butter pickles
36 Jalapeno and cheddar tater tots
2 T Canola oil
Salt and pepper
Homemade Cheddar and Black Pepper Buns
1 1/2 oz Fresh yeast
1/2 cup Sugar
1 cup Warm water
4 Eggs, reserve one for egg wash
4 oz Butter, melted
4-5 cups Flour
1 1/2 tsp Salt
8 oz Shredded cheddar
1 oz Fresh cracked black pepper
Spiked Ketchup
1 cup Mayo
2 T Dijon mustard
1 T Roasted garlic
1 1/2 cup Ketchup
5 oz Vodka
Cooking Directions
Homemade Cheddar and Black Pepper Buns
Add the yeast, sugar and water to a bowl and activate the yeast (his will take about a minute or two). Once the yeast has been activated (you can tell when bubbles have formed), add the eggs and melted butter. Mix until incorporated. In a standing mixer, add the flour and salt into the mixing bowl, attach the dough hook to the mixer and mix for 30 seconds, until the flour and the salt have combined. Stop the mixer and add the wet ingredients. Continue to mix for five minutes until smooth in texture. You may want to add a little bit more flour at this time. The dough should be sticky and little wet. Remove from the mixer and place in a bowl, then cover and place in a warm area. Let rise until the dough has doubled in size. After the dough has proofed, place the dough on the countertop and knead in the cheddar cheese and black pepper, making sure to not overwork the dough. Once the cheese is mixed in, you can stop. Cut the dough into 5 oz portions and form into balls. Place the balls on a buttered baking sheet and flatten them out with your hand. Proof them again in a warm area until the buns have doubled in size. Brush them with egg wash (1 egg beaten) and bake in a 350 degree oven for 10 minutes, rotating half way through. Cool on wired rack.
Spiked Ketchup
In a bowl, combine the mayo, Dijon mustard, and roasted garlic to create an aioli. Add the ketchup and vodka to the bowl and mix until incorporated.
Hamburgers
Season the ground beef patties with salt and pepper, then coat with oil and sear in a very hot skillet or grill for approximately 2 minutes on one side. Flip and cook for an additional minute and a half. Remove the patties from the heat and reserve.
To Assemble the "Big Marc":
Slice the cheddar and black pepper buns in half horizontally, and brush with melted butter. Toast the buns in a skillet or grill. Once the buns have been toasted, add 8 slices of bread and butter pickles to the bottom of each bun and place the cooked hamburger on top of the pickles. Put 1 oz of spiked ketchup on top of each burger and place the top bun on. Serve with 6 jalapeño cheddar tater tots, and serve immediately
This recipe was styled by chef Karen Pickus for Good Morning America.
Recipe courtesy Marc Murphy.
Other Recipes That You Might Like