Summer Squash Salad
Chef David Walzog's Easy Summer Side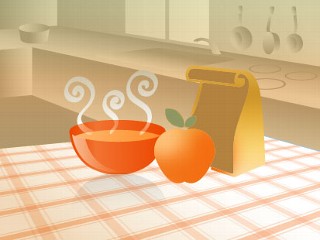 From the kitchen of David Walzog
|
If you want to add some zip to your Labor Day barbecue, Chef David Walzog has some spicy ideas before you fire up the grill.
Walzog, executive chef of The Steakhouse at Monkey Bar in New York joined Good Morning America for a Labor Day barbecue.
Here is his recipe for Summer Squash Salad.
Ingredients
2 yellow squash
2 zucchini
8 crimini mushrooms
3 ounces parmesan cheese, cut into thin slices
2 cloves fresh garlic, peeled and thinly sliced
6 leaves fresh basil, julienne
3 ounces extra Virgin Olive Oil
2 lemons, zested and juiced
2 tsp. cracked Chile Flakes
Kosher salt, to taste
Black pepper, to taste
Cooking Directions
Split the squash and zucchini lengthwise and lightly oil. Season with salt and black pepper and grill over medium heat for 5-6 minutes. Turn the squash once to cook it evenly. Cut the squash into half moons.
Next lightly oil and season the crimini mushrooms and place onto the grill for 4-5 minutes. Place the cut squash and mushrooms into a mixing bowl and add the parmesan cheese, sliced garlic, basil, extra virgin olive oil, lemon zest and juice and the cracked chile flakes. Season with salt and black pepper to taste.
Courtesy of David Walzog, executive chef, The Steakhouse at Monkey Bar in New York.
Other Recipes That You Might Like