Grilled Potato and Corn Salad with Chipotle Mayonnaise
A Summer Picnic Recipe from Sara Moulton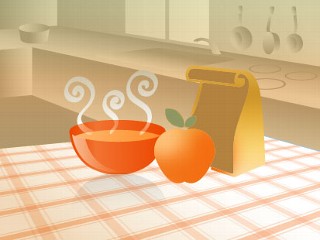 From the kitchen of Sara Moulton
|
Pack your picnic basket with Sara Moulton's amazing picnic dishes.
Check out the recipe for the Grilled Potato and Corn Salad with Chipotle Mayonnaise that Moulton showed off on Good Morning America.
Ingredients
1 large red bell pepper
2 to 2 1/2 tablespoons olive oil as needed
1 1/2 pounds large red potatoes, cut into 1/4 inch thick slices
Kosher salt, to taste
2 tablespoons white wine vinegar
3 medium ears corn, husks removed
1/4 cup plain yogurt
1/2 cup mayonnaise
2 small canned chipotle chiles in adobo sauce (available in many supermarkets), seeded and minced to a paste with 1/2 teaspoon of the adobo sauce
2 tablespoons fresh cilantro, finely chopped
Freshly ground black pepper, to taste
Cooking Directions
Prepare a hot fire in a charcoal grill and let the coals burn down to a gray ash. (alternatively, preheat the broiler and arrange the broiling pan about 5 inches from the heat).
Rub the pepper with a small amount of the oil and place on the grill. Grill or broil 5 to 6 inches from the heat, turning frequently, until charred on all sides, about 10 mintues.
Transfer the pepper to a bowl and cover the bowl with plastic wrap. When cool enough to handle, peel the pepper, remove the seeds, and chop fine. Let the fire cool to medium heat.
Toss the potatoes with a spoonful of the oil, add salt to taste, and arrange in one flat layer on the grill or under the broiler. Grill or broil, turning often, until browned and tender, about 15 minutes. Transfer the potatoes to a large bowl and toss with the vinegar while still hot.
Rub the corn with the remaining oil, season with salt, and grill or broil, turning often, until light or golden on all sides, about 10 minutes. Cut the corn off the cob and add to the bowl with the potatoes.
In a small bowl, whisk the yogurt, mayonnaise, chipotle, and salt to taste. Add the chipotle mayonnaise, red pepper, and cilantro to the potatoes and stir well. Season with salt and pepper.
Other Recipes That You Might Like