Tchoup Chop Shrimp Summer Rolls
Emeril's Asian-Inspired Appetizers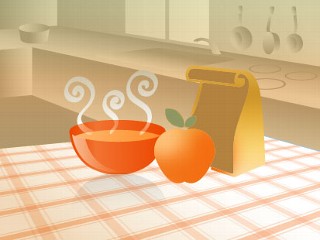 From the kitchen of Emeril Lagasse
|
Just when you thought Emeril Lagasse had taken every kind of food there was and "kicked it up a notch," he is working his magic on an all-new food group: Asian and Polynesian food.
It is the featured cuisine at his restaurant, Tchoup-Chop, located at Lowe's Royal Pacific Resort in Orlando, Fla.
If you're not going to sunny Florida anytime soon, try his recipe for Tchoup Chop Shrimp Summer Rolls in your own kitchen.
Ingredients
Summer Rolls
2 skeins mung bean (or cellophane noodles) (1-ounce)
1 piece ginger (2-inch), peeled and thinly sliced
1 lemon, halved
1/4 cup soy sauce
1/4 cup sugar
4 bay leaves
1 Tablespoon green onions, chopped, green and white parts
1 teaspoon garlic, chopped
1 teaspoon salt
1 teaspoon freshly ground black pepper
1/2 teaspoon cayenne
16 large shrimp, peeled and de-veined
2 teaspoons Creole Seasoning
8 rice paper wrappers (8 1/2-inch round)
8 small romaine lettuce leaves, rinsed, patted dry, ribs removed, and torn into bite-size pieces
1 ounce alfalfa sprouts(or radish sprouts)
32 fresh mint leaves
32 sprigs fresh cilantro
1 large carrot, peeled and shredded
Hot Mustard Sauce (optional)
Asian Dipping Sauce
1/4 cup carrots, grated
2 Tablespoons Asian sesame oil (dark)
2 Tablespoons rice vinegar
1 Tablespoon Vietnamese fish sauce (or Thai)
1 Tablespoon soy sauce
1 Tablespoon crunchy peanut butter
1 teaspoon garlic, minced
1/4 cup cooking liquid from Shrimp Summer Rolls
Cooking Directions
Put 2 cups hot water in a large bowl and add the noodles. Soak them until softened but slightly resilient, 20 to 30 minutes. Drain them and pat dry on paper towels. Put in a bowl and cover.
Combine 4 cups water, the ginger, lemon, soy sauce, sugar, bay leaves, green onions, garlic, salt, black pepper, and cayenne in a large saucepan. Bring to a boil. Season the shrimp with the Creole Seasoning, then add to the boiling water. Boil for 2 minutes, then remove the pan from the heat and allow the shrimp to sit in the hot liquid for 2 minutes, or until cooked through.
Using tongs or a slotted spoon, remove the shrimp from the water and let cool. Reserve 1/4 cup of the cooking liquid for the dipping sauce. When the shrimp are cool enough to handle, cut lengthwise in half. Fill a large bowl with hot water.
Place a clean kitchen towel next to the bowl. Submerge 1 rice paper wrapper in the water and soak it until softened, about 1 minute. Carefully remove the rice paper from the water and lay it flat on the towel.
In the center of the sheet, layer one-eighth of the soaked noodles, 4 lettuce pieces, about 20 sprouts, 4 shrimp halves arranged side by side in a row, 4 mint leaves, 4 cilantro sprigs, and one-eighth of the carrots. Pull the bottom up over the filling, fold over the sides, and roll up like an egg roll. Place seam side down on a plate and repeat the process with the remaining rice papers and filling.
Place seam side down on a plate and repeat the process with the remaining rice papers and filling. Serve immediately, with the dipping sauce. Yield: 8 summer rolls
Asian Dipping Sauce
Combine all the ingredients in a bowl, and whisk until well blended.
Set aside until needed; stir well before serving. (The sauce can be covered and refrigerated for up to three days.)
Recipe courtesy of Emeril Lagasse, copyright © 2003.
Other Recipes That You Might Like