Chocolate Mousse
Lock the Door, Lose the Weight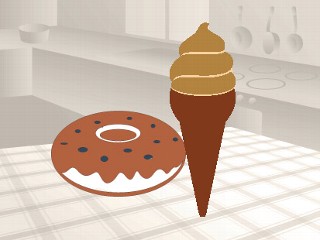 From the kitchen of Joy Bauer
|
Good Morning America's "Lock the Door, Lose the Weight" menu featured a recipe for chocolate mousse.
Ingredients
1 1/2 cups Cool Whip Lite
1 package of Jell-O chocolate pudding mix (sugar-free fat-free)
1 1/2 cups skim milk, cold
Cooking Directions
In a mixing bowl, first pour cold skim milk and add dry chocolate pudding mix — whip with a wire whisk for 5 minutes. Pudding will thicken.
Measure out 1 cup of Cool Whip Lite and stir into the pudding mixture (save the remaining 1/2 cup) — and gently whip.
Divide into four serving dishes — and top each with a dollop of Cool Whip Lite.
Calories: 100 Carbohydrate: 12 grams Protein: 3 grams Fat: 3 grams Saturated Fat: 3 grams Cholesterol: 1.6 milligrams Sodium: 129 milligrams
Other Recipes That You Might Like