Nigella's Chocolate Pots
Nigella Lawson's Dessert Recipes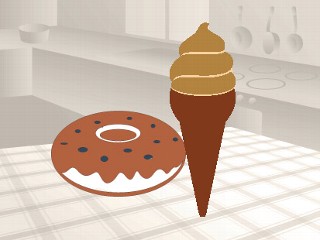 From the kitchen of Nigella Lawson
|
Nigella Lawson is lighting more than a few fires in kitchens these days, and we're not talking about the stove.
The sizzlingly attractive chef who hosts the popular Style Network show, Nigella Bites, shared some holiday goodies on Good Morning America, as part of a new series called Perfect Party Pleasers. Here is her recipe for Chocolate Pots, a chocolate custard-like dessert.
Ingredients
6 ounces bittersweet chocolate (best-quality - minimum 70 percent cocoa solids)
1/2 cup plus 2 tablespoons heavy cream
1/3 cup plus 1 tablespoon whole milk
1/2 teaspoon vanilla extract
1/2 teaspoon allspice
1 egg
8 pots or custard cups (1/4 cup)
Cooking Directions
Crush the chocolate to smithereens in the food processor.
Heat the cream and milk until just about boiling, then add the vanilla and allspice and pour through the funnel over the chocolate. Let stand for 30 seconds. Process for 30 seconds, then crack the egg down the funnel and process for 45 seconds.
Pour into whatever little cups you're serving in, and sit them in the refrigerator for 5 hours or overnight. But remember to take them out of the refrigerator a good 20 minutes before you want them to be eaten; the chill interferes with their luscious, silky richness.
Note: This makes 2 cups altogether: enough to fill 8 little pots of approximately 1/4 cup capacity. But if you've got only bigger cups, just augment quantities.
All recipes used with permission, excerpted from Nigella Bites, by Nigella Lawson, Hyperion, Copyright 2002.
Other Recipes That You Might Like