Emeril's Cherry Cobbler
An Irresistible Classic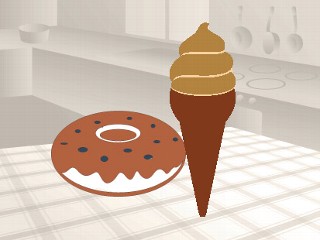 From the kitchen of Emeril Lagasse
|
Nothing says summertime quite like a cherry cobbler pie. Here's Emeril's version.
Ingredients
1/2 cup light brown sugar, packed
2 tablespoons all-purpose flour
1/2 teaspoon ground cinnamon
Pinch nutmeg
Pinch salt
4 tablespoons unsalted butter
6 cups stemmed, pitted fresh cherries
1 tablespoon cherry brandy (or kirsch white brandy distilled from cherries)
Basic Sweet Pie Crust, (recipe below)
2 tablespoons heavy cream
1 tablespoon granulated sugar, for top of pie
1 half-gallon vanilla ice cream, for topping
1/2 cup blueberries, for top of cobbler and ice cream
Basic Sweet Pie Crust
16 ounces flour, about 3 and 1/4 cups
2 tablespoons sugar
1 teaspoon salt
2 sticks cold butter, cut into 1/4-inch pieces
3 tablespoons solid vegetable shortening
3 to 5 tablespoons ice water
Cooking Directions
Preheat the oven 350 degrees F. In a bowl, combine the brown sugar, flour, cinnamon, nutmeg, and salt.
In a large saucepan, melt the butter over medium heat. Add the cherries and cook, stirring gently, for 1 minute. Add the sugar-flour mixture, and cook, stirring constantly, until the mixture thickens and begins to boil. Remove from the heat and stir in the brandy. Let cool.
Divide the pie dough in two, one portion slightly larger then the other. Roll out the larger portion on a lightly floured surface to about 11 inches in diameter. Transfer to a deep 8-inch cast-iron skillet or Dutch oven, fitting the dough up the sides, leaving a slight overhang. Roll out the remaining dough into a large rectangle and cut into 1-inch thick strips.
Pour the fruit mixture into the bottom dough. Working one strip at a time, create a lattice top crust by laying the strips across the top in one direction, then turn and lay across in the other, interweaving the strips if desired. Roll up the overhanging bottom crust over the edges and pinch to seal. Crimp together around the pan. Brush the top with the cream and lightly sprinkle with one tablespoon of granulated sugar. Bake until the crust is golden and the juices are bubbly, about 40 minutes.
Remove from the oven and transfer to a wire rack to cool completely before serving.
Basic Sweet Pie Crust
Sift the flour, sugar, and salt into a large bowl. Using your fingers, work in the butter and shortening until the mixture resembles coarse crumbs.
Add 3 tablespoons of ice water and work with your fingers until the water is incorporated and the dough comes together. Add more water as needed to make a smooth dough, being careful not to over mix.
Form the dough into a disk, wrap tightly in plastic wrap, and refrigerate for at least 30 minutes before using.
Recipe courtesy of Emeril Lagasse, Copyright © 2002.
Other Recipes That You Might Like