Sushi Cupcakes
A Dessert That's a Real Sunken Treasure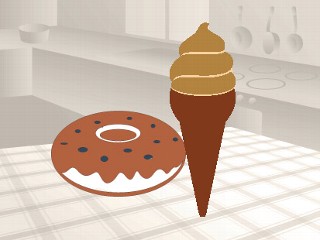 From the kitchen of Clare Crespo
|
Remember your mother always telling you not to play with your food? Apparently Clare Crespo did not heed that advice when she wrote "The Secret Life of Food," a book packed with wacky, edible creations.
Crespo teaches cooking classes to kids at the New School of Cooking in Los Angeles. She also writes a cooking column and is developing an animated children's cooking series for TV.
She appeared on Good Morning America to show off recipes that might make your friends and family do a double take.
Believe it or not, plain yellow cake cupcakes topped with coconut frosting, wrapped in green fruit roll-ups and filled with gummy fish look like sushi. You can also place dried mango next to the cupcakes, to make it look like the "sushi" has ginger next to it.
Ingredients
1 box yellow cake mix
Icing
1 1/2 cups sour cream
3/4 tsp. vanilla
4 1/2 cups shredded coconut
3/4 cup powdered sugar, sifted
Decoration
8 green fruit roll-ups fruit snacks
assorted candies (jelly beans, gummy worms, gummy fish)
papaya and mangoes (dried)
Cooking Directions
Before icing and decorating, bake cupcakes according to box mix.
Icing
In a medium mixing bowl, combine the sour cream, vanilla and coconut.
Add the powdered sugar to the mixture and mix thoroughly.
Using a butter knife, spread the icing over the tops of the cupcakes.
Decoration
Trim the Fruit Roll-Ups to the height of the cupcakes. Wrap one fruit roll around the side of each cupcake.
Arrange the dried papaya and candies on the tops of the cupcakes.
Serve the dried mangoes on the side to resemble ginger.
Other Recipes That You Might Like