Healthy Spicy Philly Cheesesteak
Delicious Sandwiches Without the Guilt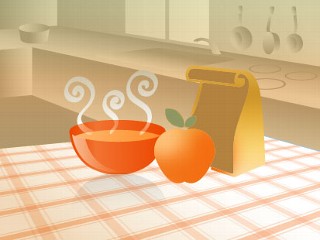 From the kitchen of Men's Health Magazine
|
Sandwiches like the Reuben, the Dagwood and the Philly cheesesteak are staples of a guy diet. After all, what goes better with a cold beer and the baseball game?
But these machismo-laden meals don't come cheap. Consider those sandwich favorites to be are pit stops on the road to a beer belly, or worse, obesity.
Even single-decker sandwiches can pack as much as 25 grams of fat, accounting for 50 percent of their total calories. It's not the cold cuts that make a sandwich fatty. It's the cheeses, sauces, and bacon strips that often get added to these lean meats.
As Good Morning America continues its Summer Weight Loss Challenge, through a partnership with Men's Health magazine, we took a look at how to make classic sandwiches healthy by adding flavorful, and healthy, ingredients.
Spicy Philly Cheesesteak
Ingredients
Roast Beef
1 medium onion, sliced
1 small red bell pepper, sliced
1 small green bell pepper, sliced
2/3 cup salsa (medium or hot)
4 multi-grain hoagie buns
1/2 cup reduced-fat cheddar cheese (shredded)
Cooking Directions
Cook the onion and bell peppers in a nonstick skillet until tender.
Add the salsa and heat until warm.
Construct the sandwiches with the buns, roast beef, onion, peppers and cheese, then warm them in the microwave for 1 to 2 minutes on high, or until the cheese starts to melt.
Per sandwich, 353 calories, 26 grams protein, 44 grams carbohydrates, 7 g total fat, 3 grams fiber.
Other Recipes That You Might Like