Mocha Toffee Cashew Bars
Nutty Cookies With a Jolt of Espresso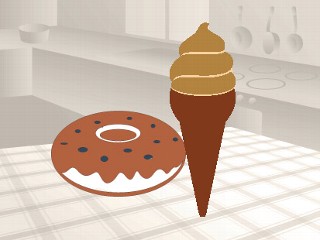 From the kitchen of Sara Moulton
|
Good Morning America food editor Sara Moulton shares her recipes for some tasty desserts. Bake up a batch of these scrumptious cookies!
Ingredients
1 cup unsalted butter (2 sticks), softened
1 cup packed brown sugar
1 large egg yolk
1 1/2 teaspoons vanilla
3 tablespoons instant-espresso powder, dissolved in 2 tablespoons of boiling water
2 cups all-purpose flour
1/2 teaspoon salt
8 ounces of fine-quality bitter sweet chocolate (not unsweeted) finely chopped
1/4 cups salted roasted cashews chopped (4 ounces)
Cooking Directions
Preheat oven to 400 degrees F.
Beat together butter and brown sugar in a large bowl with an electric mixer at moderately high speed until pale and fluffy, about 3 minutes. Beat in yolk and vanilla and then gradually add espresso mixture, beating until combined well. Add flour and salt and mix at low speed until just combined.
Spread butter evenly in an ungreased 15 1/2 by 10 1/2 inch baking pan (1 inch deep) and bake in the middle of the oven until top puffs slightly and sides pull away from the edge of the pan, 16 to 22 minutes. (Be careful - these will burn if left in a little too long).
While base is baking, melt chocolate in a double boiler or a metal bow set over a saucepan of barely simmering water, stirring occassionally, then remove the top of double boiler or bowl from heat.
Spread chocolate over warm base and immediately sprinkle with cahsews. Cool completely in pan on the rack and then cut into 48 bars. Chill until chocolate is firm (about 15 minutes).
Recipe courtesy of Gourmet magazine © 2001.
Other Recipes That You Might Like