Holiday Suckers
Candy Recipes from Rebecca Kolls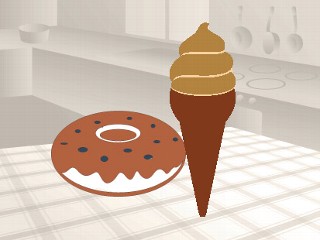 From the kitchen of Karen Pickus
|
When you've got the kids home for the holidays you have to keep them entertained.
Good Morning America's Rebecca Kolls suggests some do-it-yourself candy recipes.
Ingredients
Two packages of different fruit-flavored hard candies
Oven-safe molds
Corn oil or a spray like Pam
Cooking Directions
Preheat oven to 400 degrees
Crush candy, in their packages, with hammer (put between towels). Divide colors of crushed candy and place in bowls.
Very lightly, spray sucker molds with corn oil or a spray like Pam
Add crushed candy (for a stained glass look, add a variety of colors)
Bake until candy is nearly melted, about 5 to 8 minutes. Remove from oven, insert sticks and allow to cool and harden.When candy is hard remove and enjoy.
Recipes courtesy of Karen Pickus © 2001
Other Recipes That You Might Like