Emeril's Warm Pudding Cakes
Emeril Lagasse's Warm Pudding Cakes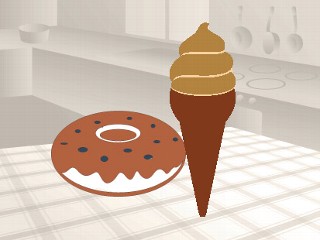 From the kitchen of Emeril Lagasse
|
Emeril Lagasse combines chocolate pudding and cake for a rich treat.
But before you start, note that this recipe only makes 2 servings, so if you are cooking for a party or for a greater number of people, you will need repeat the recipe (do not double or triple the recipe).
Ingredients
1 1/2 ounces good quality semi-sweet chocolate, finely chopped
1/2-ounce unsweetened chocolate, finely chopped
3 tablespoons plus 1 teaspoon unsalted butter, softened
3 tablespoons sugar
1 large egg
3 tablespoons all-purpose flour
1/4 teaspoon baking powder
1/2 tablespoon unsweetened cocoa powder
Whipped cream, for garnish
Cocoa powder, for garnish
Cooking Directions
Lightly butter 2 ramekins (small, individual baking pans) with 1 teaspoon of butter and set aside.
In the top of a double boiler place semi-sweet and unsweetened chocolate and stir occasionally until melted.
Remove from heat and stir in 3 tablespoons butter and sugar until smooth. Add eggs, flour, baking powder and cocoa.
With an electric mixer, beat at medium-high speed until pale and very thick, about 5 minutes. Place mixture in prepared ramekins, filling about half-full. 6. Cover with plastic wrap and freeze for at least 3 hours.
When ready to serve, preheat oven to 375 degrees.
Place ramekins on the middle shelf in the oven and bake until edges are set but centers are still shiny, about 10 or 11 minutes.
Invert pudding cakes onto plates and serve immediately, garnished with whipped cream or ice cream, and dust with cocoa powder.
(Desserts may also be served directly from ramekins.)
Recipe courtesy Emeril Lagasse, 2001
Other Recipes That You Might Like