Emeril's Chocolate Brownie Cake
Have Yourself a Big, Scrumptious Slice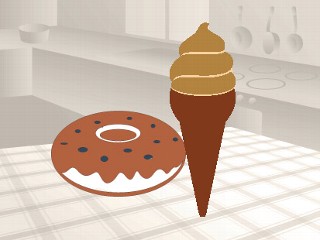 From the kitchen of Emeril Lagasse
|
Looking for some luscious dessert recipes that are sure to make your Valentine smile? Here's Emeril Lagasse's recipes for Chocolate Brownie Cake with Chocolate Buttermilk Frosting.
Ingredients
1/2 pound butter, softened at room temperature
2 cups sugar
2 eggs
2 cups all-purpose flour
1 teaspoon baking soda
4 tablespoons cocoa powder
1/2 cup buttermilk
1/2 cup sour cream
1 teaspoon vanilla extract
Chocolate Buttermilk Frosting, recipe below
Frosting
1 stick butter, softened
1/4 cup cocoa powder, sifted
8 ounces cream cheese
1 pound powdered sugar, sifted
2 tablespoons buttermilk
1 teaspoon vanilla
Cooking Directions
Cake
Preheat the oven to 350 degrees F. Grease and flour 2 (9-inch) cake pans, and line with parchment paper.
In the bowl of an electric mixer, cream butter and sugar until light and fluffy. Add the eggs and mix until thoroughly combined.
Into a medium mixing bowl, sift the flour, baking soda and cocoa powder together.
In a small mixing bowl whisk the buttermilk, sour cream and vanilla together.
With the mixer on low speed, add the dry ingredients in 3 batches, alternating with the liquid ingredients.
Divide the cake batter evenly among the 2 prepared cake pans and bake until a toothpick inserted in the middle of the cake comes out clean and the edges of the cake just begin to pull away from the sides of the pan, about 30 to 35 minutes.
Transfer the cakes to a cooling rack and allow the cakes to cool in the pans. Carefully remove the cakes from the pans and frost as usual for a layered cake with the Chocolate Buttermilk Frosting.
Frosting
In the bowl of an electric mixer combine the butter, cocoa powder and cream cheese over low speed and mix until thoroughly combined.
Increase speed to high and cream ingredients until light and fluffy. Reduce speed to low and slowly add the powdered sugar, buttermilk, and vanilla. Beat until mixture is smooth and thoroughly combined.
Frost cake as usual.
Yield: enough frosting for 1 (9-inch) layer cake or one 9- by 13-inch cake.
All recipes courtesy of Chef Emeril Lagasse, copyright Feb. 2004.
Other Recipes That You Might Like