Smokey Potato and Corn Salad
Simple Stylish Sides for the Grill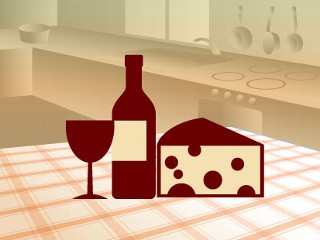 From the kitchen of Gourmet Magazine
|
This recipe can be made either on or off the grill. If using gas, the heat should be medium and direct. If you're using charcoal the heat should be direct and you should just be careful of the flame.
Ingredients
1 large red bell pepper
2 tablespoons olive oil
1 1/2 pounds large red potatoes, scrubbed and sliced
1/4-inch thick
2 tablespoons white wine vinegar
3 ears of corn, shucked
1/4 cup plain yogurt
1/2 cup best quality mayonnaise
1 canned chipotle in adobo sauce, seeded and minced to a paste, plus 1/2 teaspoon adobo sauce
2 tablespoons cilantro, chopped
Salt, to taste
Cooking Directions
Rub the bell pepper with the oil and grill it on the rack for about five to six inches from the hear source, turning frequently, until it is charred on all sides, about 10 to 15 minutes. Transfer it to a bowl and cover the bowl with plastic wrap. When cool enough to handle, peel the pepper and remove the seeds. Chop the pepper and set it aside. Let the fire cool to a medium head.
Toss the potatoes with 1 tablespoon of the oil, salt to taste and arrange in one layer on the rack. Grill, turning frequently, until browned and tender, 15 to 25 minutes.
Transfer the potatoes to a large bowl and while still hot, toss with the vinegar. Rub the corn with the remaining oil, season with salt and grill, turning frequently, until the corn is slightly golden on all sides, 10 to 15 minutes. 4. Cut the corn off the cob and add to the bowl with the potatoes. In small bowl whisk together the yogurt, mayonnaise, red pepper and cilantro to the potato salad and toss gently.
Other Recipes That You Might Like