Emeril's Strawberry Sabayon Cake
A Decadent Dessert From Emeril Lagasse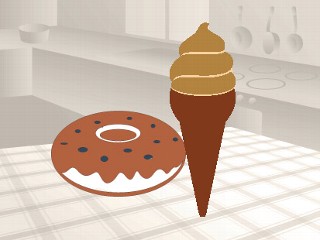 From the kitchen of Emeril Lagasse
|
For the perfect cooking experience, read the recipe carefully before gathering your ingredients.
Notice that there are two sets of ingredients for this recipe. One is for the cake and one is for the filling and sabayon sauce. Keep this in mind during preparation. You may want to keep your ingredients for both on separate areas of your counter so there is no confusion.
Now gather all of the necessary utensils for this one of a kind masterpiece and and BAM! — you'll be cooking like Emeril Lagasse in no time at all.
Ingredients
Strawberry Sabayon Cake
1/4 cup milk Butter (you'll need 2 tablespoons and 2 teaspoons of unsalted butter for separate parts of recipe)
8 large eggs
1 cup plus 2 tablespoons of sugar
1 cup bleached all-purpose flour
1 teaspoon baking powder
1/8 teaspoon salt
1 teaspoon pure vanilla extract
Cake Filling and Sabayon
3 pints fresh strawberries, rinsed, hulled, and thinly sliced
1 pint fresh strawberries, rinsed and hulled only
1 cup Grand Marnier
2 cups sugar
1 pound mascarpone cheese
4 large egg yolks
1/2 cup dry white wine
1/4 cup unsalted butter, melted
2 cups heavy cream, whipped to stiff peaks
Cooking Directions
Cake
Preheat oven to 350 degrees
To make the cake start by warming your milk and 2 teaspoons of your butter in a saucepan. Heat needs to be medium-low.
You'll need an electric mixer for this step, one that's fitted with a wire whip. Beat your eggs and 1 cup of sugar on medium-high speed in a large mixing bowl until the mixture is pale yellow, thick, and tripled in volume. Takes about 8 minutes. Now with the mixer on low-speed, beat in that warm milk mixture you made. 4.Sift all of your flour, baking powder and salt into a small mixing bowl. Now add half of that flour mixture to the egg mixture and blend thoroughly until smooth. Now add the remaining part of your flour to the that mixture. Add the vanilla extract and continue to mix gently.
Now it's time to grease your 17 x 2-inch baking pan or jelly-roll pan with the remaining 2 tablespoons of butter. Sprinkle the pan with your remaining 2 tablespoons of sugar. Pour the cake batter into the pan, spreading it evenly. Bake until the cake springs back when touched; about 15 minutes. Let cool for about 2 minutes, then gently flip it out onto a large wire rack or a large sheet of parchment paper. Now you should let it cool completely.
Filling and Sabayon
The next step for this masterpiece: The filling! First you combine just your sliced strawberries in a medium-sized mixing bowl with all of the Grand Marnier, and 1 cup of sugar. Stir it together — gently. Cover this lovely mixture and let it stand for 1 full hour.
While your mixture is standing — let's move on to the next step. To begin making the sabayon you combine the mascarpone cheese with 1/2 cup of the sugar in a medium-size mixing bowl and mix well. Now set that aside.
OK, now you are going to make the other part of the sabayon mixture. Combine your egg yolks, the remaining 1/2 cup of sugar, and the wine in a medium- size stainless steel mixing bowl and whisk until frothy. Set the bowl over pot of simmering water and whisk until the mixture thickens, about 5 minutes. Add the melted butter in a steady stream, whisking constantly until it is well blended. Remove from the heat and continue whisking to cool slightly. Set aside and cool for 10 minutes.
After 10 minutes it's time to combine both parts of the sabayon mixture. Whisk the mascarpone mixture, a little at a time, into the other part of the sabayon mixture. Whisk in half the whipped cream.
Go ahead and get your cake. Cut it, vertically, in half. Spread the strawberry filling mixture evenly over both halves. Now assemble the cake. Spread 1 cup of the sabayon evenly over the bottom of a deep glass dish (about 10 x 13 inches). Carefully place one piece of the cake on the top of the sabayon and gently press down to remove any air pockets. Then spoon half of the remaining sabayon over the cake and spread evenly. Top with the remaining piece of cake and spread the remaining sabayon over the top. Cover and refrigerate for at least 12 hours.
Now get ready for the fun part — the serving. Spread the top with the remaining whip cream, then arrange the whole strawberries on the whipped cream. Spoon into dessert dishes and wow your friends and family.
Recipe from Emeril Lagasse c.2000,
Other Recipes That You Might Like