Wolfgang's Lentil Soup
With Meatballs and Yogurt Garnish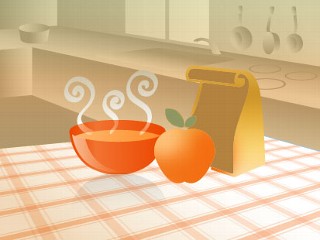 From the kitchen of Wolfgang Puck
|
Wolfgang Puck's recipe for Lentil Soup is unlike any you've ever tasted. Try his recipe for Lentil Soup with Meatballs and Yogurt Sauce.
Ingredients
Soup
3 tbsp. olive oil
1 1/2 cups onion, chopped
1/2 carrot, chopped
5 garlic cloves, chopped
1/2 celery stalk
1 branch fresh parsley
1 branch thyme
1 tbsp. turmeric
2 tsp. cumin
1 lb. golden lentils (or regular lentils, if not available)
10 cups chicken stock, heated
salt
freshly ground pepper
juice of 1/2 lemon
Meatballs
1 lb. ground chicken
1 cup blanched almonds, toasted and ground
1/2-cup fresh bread crumbs
1/3 onion, chopped
1/3 cup raisins, chopped
1 egg, lightly beaten
3 garlic cloves, minced
2 tbsp. fresh parsley
1 tbsp. fresh cilantro, chopped
1/4 tsp. chili pepper flakes
salt
freshly ground pepper
2 tbsp. olive oil
Garnish
1 cup plain yogurt
1 tbsp. fresh mint leaves, chopped
1/2 tsp. lemon zest
Cooking Directions
Prepare the soup: In a large saucepan, heat the olive oil. Add the onion, carrot, garlic, a bouquet of celery, parsley, and thyme tied together, the turmeric and the cumin. Sauté over high heat until the onions are glassy, about 5 minutes.
Stir in the lentils and the chicken stock, season lightly with salt and pepper, and bring to a boil. Reduce the heat and simmer for 25 to 30 minutes, until the lentils are tender. Skim as necessary.
Remove the celery bouquet and transfer two thirds of the soup to a blender. Blend until smooth and return to the saucepan. Stir in the lemon juice and correct seasoning to taste. Set-aside until serving time.
Preheat the oven to 500 degrees.
Prepare the Meatballs: In a mixing bowl, combine the chicken, almonds, bread crumbs, onion, raisins, egg, garlic, parsley, cilantro. Add chili pepper flakes. Season lightly with salt and pepper. Divide the mixture into 40 meatballs, each approximately 1 inch in diameter and weighing 1 oz.
Heat 2 tbsp. olive oil in a large ovenproof skillet or sauté pan. Place meatballs in oven and cook until they are well browned and firm to the touch, turning to brown all sides, eight to 10 minutes.
In a small bowl, combine the yogurt with the mint and lemon zest. Refrigerate until serving time.
Presentation Tips: Heat the soup and spoon into eight to 10 soup bowls. Divide the meatballs among the soup bowls and drizzle the yogurt mixture over. Serve immediately.
Other Recipes That You Might Like