Shaq O'Neal's Banana Pudding
Shaunie O'Neal Shares Recipes for Her Husband Shaq's Favorite Snacks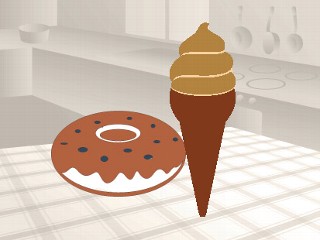 From the kitchen of Emeril Lagasse
|
Think your husband's a big eater? Imagine if he were 7 feet 1 inch tall and had to run, jump and slam dunk for a living.
On the eve of Sunday's NBA finals between the Los Angeles Lakers and the Detroit Pistons, Shaunie O'Neal, the wife of Shaquille O'Neal, appeared on Good Morning America to share the snacks that keep the Lakers star fueled on and off the court.
When they come home very late after games and do not want to have a full meal, the O'Neals will snack on brownies with vanilla ice cream, fried chicken drummettes with french fries, banana pudding or Ray's Famous Extra Cheese Pizza, she said.
Here is the recipe for the Banana Pudding.
Ingredients
1 cup flour • 1/2 cup sugar • 2 14-ounce cans sweetened condensed milk 4 cups whole milk 4 large eggs 2 TBS. vanilla extract 6 large bananas 1 12-ounce box vanilla wafers 1 2 1/2-quart bowl or 6 to 8 parfait glasses depending on the size
Cooking Directions
In a 3/4-quart heavy bottom pot, combine the flour and the sugar with a wire whisk. Whisk in the condensed milk and then slowly whisk in the whole milk. Then whisk eggs separately in a bowl and add. Continue whisking until mixture is completely smooth.
Place over medium high heat, whisking constantly until mixture begins to boil. Lower heat to medium. While continuously whisking, boil mixture for 2 minutes. Be careful not to scald pudding. Mixture will get thick and bubbly, so be careful. Remove from heat and whisk in vanilla extract.
Slice bananas into 1/4-inch slices.
Start layering, vanilla wafers, bananas, pudding. Repeat layering until no ingredients remain. If you are using parfaits, make three layers finishing with the pudding. If you are using the large bowl, make 5 layers. Top with sweetened whipped cream, if desired. Let cool slightly or refrigerate and serve later the same day.
Recipes adapted by Good Morning America's chef/food stylist Karen Pickus, based on recipes from Shaquille O'Neal's former chef Thomas Gosney.
Other Recipes That You Might Like