Emeril's Bloody Mary Mix
Emeril Lagasse's Breakfast in Bed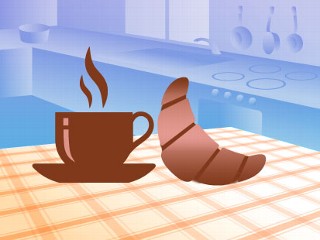 From the kitchen of Emeril Lagasse
|
Chef Emeril Lagasse treated the winner of his "Breakfast in Bed" contest to a delicious Mother's Day meal. This year, "Good Morning America" remembered a mother, Annie Lyznicki, and saluted a father -- Dan Lyznicki, who has become both mother and father after his wife's untimely death.
Here is Emeril's recipe for Bloody Mary Mix. The recipe makes one gallon.
Ingredients
4 bottles tomato juice (32-ounces each)
8 ounces Worcestershire sauce
3 tablespoons fresh lemon juice
1 tablespoon Emeril's Original Essence or Creole Seasoning
1 tablespoon prepared horseradish, or to taste
1 teaspoon celery salt
1 teaspoon freshly grated black pepper
Lime wedges, garnish
Cooking Directions
Combine all the ingredients except the lime wedges in a gallon container. Shake well, adjust the seasoning to taste, and refrigerate until ready to serve.
To serve, pour the Bloody Mary mix into tall glasses, add crushed ice to fill the glass, and stir. Garnish each glass with a lime wedge and serve.
(The Bloody Mary mix will keep refrigerated in an airtight container for up to 48 hours.)
Other Recipes That You Might Like