Wolfgang's Asian Cole Slaw
Wolfgang Puck's Summer Barbecue Recipe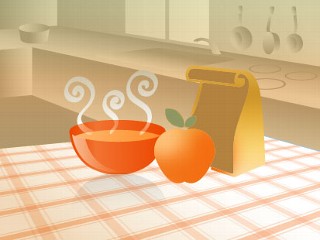 From the kitchen of Wolfgang Puck
|
Ingredients
1 bunch green scallions
1 head of green cabbage
1 large carrot
1/2 cup mayonnaise
1/4 cup rice wine vinegar
1/4 cup honey
2 tablespoons sesame oil
Salt and freshly ground black pepper
Cooking Directions
Slice half of the scallions, cabbage and carrot into thin julienne and place in a salad bowl.
Reserve the remaining scallions, which you have also julienned.
In a small bowl, combine the mayonnaise, rice wine vinegar, honey and sesame oil until thoroughly mixed and pour over cabbage mixture.
Salt and pepper to taste and let marinate for 1/2 hour before serving.
(Recipes courtesy of Wolfgang Puck)
Other Recipes That You Might Like